New Australian Spill Kit Industry Standards
Author: Brendan Clayton Date Posted:9 May 2017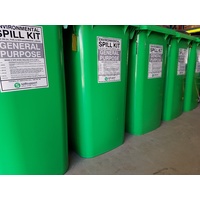 To save confusion in emergency situations there is now a new Australian Spill Kit Industry Standard for colours of spill kits. All Industroquip Spill Control Kits are now manufactured to this new standard
Up until now the various colours identifying spill kits was left to the discretion of the manufacturer.
With no national standard or guidelines in Australia covering the colour of spill kits there was a lot of confusion especially at the critical time of an emergency.
In the average Australian workshop, mine or yard situation there is a multitude of wheelie bins for a wide variety of uses (Waste, Recycling, Fire Depots, Spent Sorbents, Oily Rags and Spill Kits) in almost every colour you could imagine, which in time gone by has led to delays in finding the spill kit in an emergency.
There is also different absorbent products for different types of spills which with no National spill kit colour standard to easily identify which spill kit is for what hazardous material, this could potentially lead to confusion and see an operator deploy the wrong equipment for the spill.
In a time of an emergency there is no time for confusion, Just imagine trying to fight a fire with the wrong type of fire extinguisher.
So no doubt by now you are asking what is the new colour standard?
The new spill kit colour scheme uses Lime Green as the colour of the spill kit base.
Lime green was chosen simply because of its high visibility and because it is not a colour generally used by any other industry as a bin base.
The lids are coloured:
WHITE – Oil & Fuel Only
GREY – General Purpose
YELLOW – Hazardous Chemicals
These lid colours were chosen to match the colour of the absorbents which is in line with the standard absorbent colour coding used in the British Standard BS7959-3:2007 "Materials used for the control of liquid spillages" that is used in most countries throughout the world for the colour coding of sorbent materials.
All Industroquip Spill Kits in wheelie bins comply fully to this new standard and it is being phased in by all other leaders in the Spill Control Industry throughout this year.
This standard only covers wheelie bin spill kits but changes will be coming in the near future for other spill kits including cab bag spill kits.
For more information on this standard or for help to comply please contact Brendan Clayton from Industroquip on 1300 554 192 or brendan@industroquip.com.au
Industroquip stock a huge range of Spill Control & Prevention Equipment ready for immediate despatch to your sites Australia wide.
---
Leave a comment