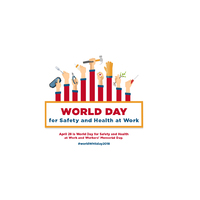 Build safe and healthy workplaces for young workers and future generations!
Saturday 28 April is World Day for Safety and Health at Work and Workers' Memorial Day.
This is a day for promoting safety and health in the workplace and to honour those who have died from work-related injury or illness.
This year Safework Australia encourages you to promote Generation Safe and Healthy and highlight the importance of improving safety and healthy for young workers and our generations to come.
Young workers have an increased risk of workplace injury due to their lack of experience, maturity and awareness of health and safety responsibilities.
Australian statistics reflect that;
Young workers are 17 per cent more likely to suffer a work-related injury

21 per cent more likely to be hospitalised than the average across all ages.
Help create a safe and healthy environment for young workers by:
providing the right tools and training to complete work safely

educating young workers about WHS rights and responsibilities, and

empowering young workers to have the confidence to speak up about safety and healthy in the workplace.
Safework Australia has provided an excellent resources page click here to download Posters, Infographics and more to help promote this excellent initiative in your workplace this Saturday.

#worldWHSday2018