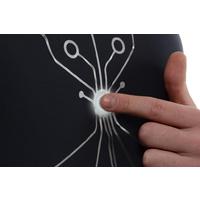 Smart technology is creating new possibilities for safety. Detecting danger, preventing accidents and improving productivity.
Wearable technology will become increasingly prevalent in PPE thanks to IT improving safety management, increasing productivity and offering long-term cost savings by preventing accidents, according to a March 2016 report by Frost and Sullivan.
With the mainstream popularity of wearable devices such as smartwatches and fitness trackers containing sensors that monitor location, movement, heart rate and sleep quality, its a natural progression that this is integrated into PPE and workwear & safety clothing to enable improved safety management on site.
Large-scale investment is already happening , with global insurance firm AIG partnering with wearable PPE startup, Human Condition Safety in early 2016.
According to the CEO of Human Condition Safety, Peter Raymond, the company's wearable technology uses artificial intelligence and cloud computing to monitor key health and safety indicators.
"We can detect the exact movement whaen someone loses their balance, trips and falls, or carries too much weight," Raymond said.
President of AIG Global Casualty, Lex Burgh, said smart PPE and smart clothing also "allows the site manager to understand where all their workers are and when they are in an unsafe condition or an unsafe place. They can look at that on an aggregate basis."
"There's a rea;l benefit here both from a financial standpoint in terms of reducing the cost of risk and in=mproving the quality of someone's work experiance," he said.
The concept of cloud-based OHS management is not new. The recent smartphone and tablet boom has allowed shared project data, remote documentation access and streamlined incident investigation. Wearable smart PPE is the next step in the digital OHS revolution.
Smart Vision:
Another US-based startup playing in the wearable PPE space is Daqri, manufacturers of an augmented reality smart helmet that integrates with a smart watch and uses similar technology as Google Glass, but caters specifically for industrial applications.
Daqri's smart hard hat will include offerings such as job site mapping, video recording and parts identification (as long as they are catalogues in Daqri's control centre) and the cloud-based visual access of machinery service manuals, instructions, documentation and parts lists. Daqri will also automatically record and log machinery gauge readings.
For health and safety executives (HSE), this new technology assists by monitoring proeedures as well as allowing safety controls within workflows that prevent processes from moving forward without certain verifications.
While these are all attractive propositions, the report from Frost and Sullivan found that the certain challenge of quantifying ROI to end users would initially "impede market penetration of smart PPE".
However it is said that ultimately the increased demand for product differentiation will drive investment, with the greatest initial intake in mining oil and gas, automotive, manufacturing, fire safety and emergency services.