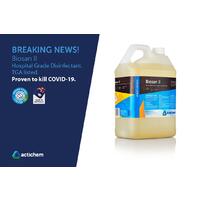 Put Biosan 2 now available from Industroquip to the test in your workplace
Does your establishment value the safety of your staff and customers?
Are you using a "Proven to Kill Covid-19" disinfectant to protect your people?
The team at Industroquip are pleased to offer our valued customers 'Biosan 2 Disinfectant' that is TGA Approved and has been proven to kill Covid-19 (Coronavirus).
Actichem's Biosan II is now TGA listed as a Hospital Grade Disinfectant that has been proven to kill Coronavirus COVID-19. Biosan II is ultra-versatile, available as a concentrate or ready to use.
Available in 700ml Spray Bottles or 20 Litre Drums for refilling spray bottles the Biosan 2 disinfectant is a must have product for your workplace to protect your people from the risks associated with Covid-19.
Industroquip also stock a huge range of products to help your workplace function during these testing times safely protecting your people and patrons including Alcohol Wipes, Hand Sanitiser, Hand Sanitising Stations, Social Distancing Floor Markers and much more
Contact the team today for more information now on 1300 554 192 or sales@industroquip.com.au