Get to know the Industroquip team - Brendan Clayton
Author: Marketing Date Posted:3 November 2020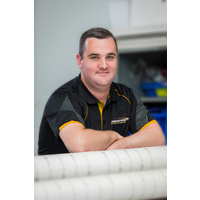 Learn more about Brendan Clayton one of our Founders - We hope you enjoy this series of fun interviews we are completing to help you put faces to the names at Industroquip
We met up with one of our Founding Directors - Brendan Clayton and asked him some random questions, see what he has to say below:
Where would we find you on the average weekend?
I've recently built a new house so doing landscaping or odd jobs no doubt
Most exciting projects you've worked on or are working on?
In the past I've worked on many exciting projects but one that springs to mind was when Westrac built their new facility in Tomago, it was the first site we introduced PPE Vending Machines into, we put 8 machines in there and also manufactured and installed loads of Safety Signs and Equipment to the facility. I'm currently working on a new product innovation in the Spill Control Division which I'm really looking forward to launching soon and I'm also working on a new hard copy catalogue which is something I love doing as it makes the lives of our sales team and our customers so much easier.
What's your idea of a perfect day?
At a remote beach, nice food, a nice beer, 28 degrees, sun shining, spent with my wife and 2 kids
Do you play any sports?
None professionally
What's your favourite famous or inspirational quote?
Always behave like a duck- keep calm and unruffled on the surface, but paddle like mad under the surface
What do you love about your job?
The variety I guess, no two days are the same.
Do you have a favourite food?
I have many favourite foods, anything BBQ, Seafood, Meat, Indian, Gourmet Pizza, Macadamia Nuts the list goes on.
If you could change something in the world, what would it be?
I'd get rid of Covid19 even though I'd have to say I've enjoyed some parts of it all
We hope you enjoyed learning more about Brendan Clayton, Brendan would love to hear from you and assist you in getting your workplace to zero injuries.
Brendan Clayton Maitland
Brendan Clayton lives in Louth Park
Brendan Clayton works at Industroquip
Brendan Clayton works in Newcastle region
Brendan Clayton lived in Penrith
Brendan Clayton attended Tenambit Public School
Brendan Clayton attended York Public School
Brendan Clayton UBT
Brendan Clayton Oneschool
Brendan Clayton HR100
Brendan & Emily Clayton
Steinar Clayton
Willow Clayton
---
Leave a comment