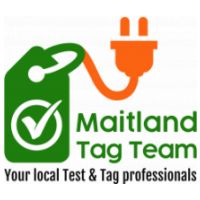 We often get asked if we offer Electrical Test & Tag, we don't but are happy to share our industry contacts
As a reputable local family owned and operated provider of Safety Signs & Equipment with our headquarters right here in Rutherford NSW, we often get asked by local engineering, construction and mining companies around Maitland, Newcastle and the Hunter Valley do we provide Electrical Test & Tag Services?
The short answer is No, however the answer you want is No we don't but we have a great industry friend in this field of work who is an absolute gun and will be more than willing and able to assist with all your Electrical Test & Tag, RCD testing and Microwave Testing needs.
Dean Wilson from Maitland Tag Team is yor go to man, he is honest, fair, hard working knowledgable man that resides here in Maitland and services clients right over the region.
We've personally used Dean from Maitland Tag Team on a number of projects and he has always proved to be great to deal with and fast and friendly which is a reputation we work hard to keep in the Maitland region as well.
Contact Dean directly on 0405 414 669 or email him at info@maitlandtagteam.com.au
For all your Safety Signs and Safety Equipment needs in the Hunter Valley region please reach out to our team at Industroquip who would love to work with you in 'Accelerating your workplace to zero injuries!'