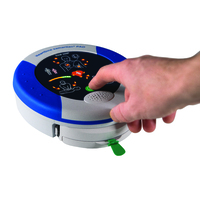 Defibrillators save lives!
30,000 people this year will have a Sudden Cardiac Arrest (SCA). Unfortunately most will die!
The clock is ticking, its time to act to protect yourself, your family and friends by having one close at hand.
They are simple to use, affordable and reliable.
Without a defib close by, most people die.
Industroquip Safety & Signage supply the Heartsine range of defibs and a full range of other First Aid Equipment ready for fast delivery to your Sydney workplace.
A defibrillator is a device that uses electricity to re-start the heart or shock it back into its correct rhythm. It is used when someone has a sudden cardiac arrest (SCA). This is when the heart suddenly stops pumping. The defibrillator analyses the heart rhythm and decides whether an electric shock is needed.
Contact Brendan Clayton now on 1300 554 192 or brendan@industroquip.com.au for pricing on a Defibrillator to suit your application.