Easy Install Trolley Bays & Steel Bollards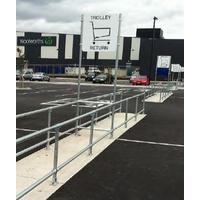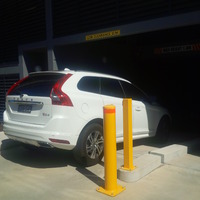 ExoGuard Trolley Bays by Industroquip are pre-engineered, preconfigured and independently load tested to Australian Standard AS 1170.
Trolley Bays are manufactured from hot dip galvanized steel for enhanced corrosion protection.
Available in single, double or triple configurations, complete in kit form ready for installation,
ExoGuard Trolley Bays establish secure storage for trolleys at shopping complexes and airports and come with provision to add extras like Trolley Bay signage with ease.
ExoGuard Safety Bollards provide permanent protection for pedestrians and equipment. Applications • Airports and shopping centres • Warehouses and loading bays • Pedestrian pathways and footbridges • Carparks and community centres • Vehicle designation and protection • Sports and recreation centres.
Industroquip offer installation services in Sydney, Brisbane, Newcastle, Canberra and Melbourne.
Call 1300 554 192 or Email sales@industroquip.com.au for information and pricing on our range of standard trolley bay configurations.
Carpark Bollards Sydney, Car Park Bollards Sydney, Trolley Bays Sydney,
---