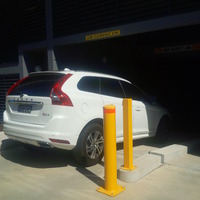 At Industroquip Safety & Signage we realise that you are looking for more then a 'click to buy' safety supplier and a safety product only works if it has been installed properly, that is why Industroquip Safety & Signage offer Australia Wide Installation of;
Roof Walkway Systems
Safe Access Ladders
Height Bars
Anchor Points & Static Lines
Roof Guardrail Systems
Convex Mirrors
Shopping Trolley Bays
Bollards
Wheel Stops & Speed Humps
Safety Signs
Mining & Road Signs
Line Marking
Floor Graphics
Pedestrian Safety Barriers
Fleet Markings
Mine Spec Vehicle Accessories
Anti Slip Stair Nosings
Tactiles
Street Furniture
Designated Smoking Shelters
Bike Racks
Pallet Racking Protectors
Workshop Furniture
Eyewash & Safety Shower Units
Floor Bunding
Speed Cushions
Anti Fatique & Entrance Matting
And much more...
All Industroquip Safety & Signage Installation Teams have been factory trained in the use and installation of our products and all work complies to relelvant state regulations Australia wide.
Some of the companies that have benefited from Industroquip Supply & Installation are:
Just to name a few.
Call our Supply & Installation Team today on 1300 554 192 to discuss your next project or email sales@industroquip.com.au.
Industroquip Safety & Signage have installation teams based in Sydney, Newcastle, Canberra, Brisbane, Melbourne, Perth, Darwin & Adelaide that are able to travel anywhere in Australia to complete projects.