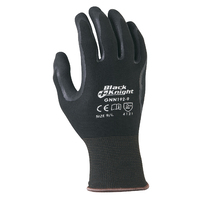 Maxisafe is a leading brand of Safety Products in Australia. Maxisafe develops and manufactures safety solutions for total worker protection. We offer hand protection, head protection, and clothing, as well as respiratory equipment and site and civil safety products.
We are recognised for our innovative products that meet the highest quality requirements, complying with Australian, European and American safety standards. Our global sourcing power enables us to produce world-class safety products made to the highest quality. Our products have cutting edge features that can give your workforce an edge in performance.
The latest technology, the best materials and our know how go into providing you with the right PPE. Regardless of what industry you're in, from chemical to construction, industrial or manufacturing, food processing or mining, we can cover your safety equipment needs.
Maxisafe distributes high-quality safety equipment in Australia and has a comprehensive range of PPE. Choose innovative products that protect employees, allowing them to work not only safely but comfortably.
The Maxisafe brand is a global leader in protection solutions. Maxisafe designs, develops and manufactures a wide range of hand, arm, head and hearing solutions, respiratory and clothing. With our global sourcing power and local market knowledge, our proactive approach to research, development and technology enables us to produce innovative, world leading safety products of the highest quality.
The Maxisafe range is recognised for its unique innovation and extremely high quality, distributed through a network of Preferred Distributors globally. Maxisafe products are certified or comply with relevant world safety codes whether you are in Australia, Europe or America. Keeping abreast with all the changes in today's marketplace can be a real challenge. Maxisafe is experienced at making these changes. Changes that will strengthen the inner core of your business, add goodwill, increase your sales and facilitate smooth and sustainable growth.