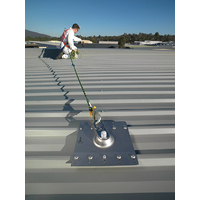 Looking for a reliable provider of Safety Anchor Points in Sydney?
Look no further!
Here at Industroquip Safe Access Systems we have been designing, manufacturing, installing and certifying Roof Access & Safety Systems Australia Wide for Construction, Government Departments, Strata Management Companies, Councils, Property Owners and more.
Our range of Roof Access & Safety Systems is manufactured and installed to Australia/ New Zealand Standards and consists of:
Roof Walkway Systems
Roof Handrail Systems
Roof Access Ladders
Air Conditioning Platforms
Rooftop Plant Platforms
Safety Anchor Points
Staticline Systems
Ladder Support Brackets
Our Roof Safety Expert, Gary Clayton is a leading authority on Roof Access & Safety Systems with almost two decades of hands on experience, contact Gary today on 1300 554 192 or gary@industroquip.com.au to discuss your Roof Access & Roof Safety System Needs.
We have worked with many organisations throughout Australia including:
Scentre Group, Stockland, Newcastle Council, Campbelltown Council, Lane Cove Council, GlaxoSmithKline, Reckitt Benkiser, Japara, Rockdale Council, Virgin, Vicinity Centres, Aldi Stores, Boeing and many other big names.
Contact us today on 1300 554 192 and put us to the test!