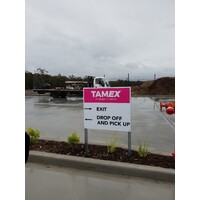 Industroquip were please to partner with the fantastic team at Tamex Transport
to manufacture the Directional & Safety Signs for their new state of art facility in Beresfield NSW near Newcastle.
Founded in Tamworth, NSW, in November 1991, Tamex offered country-based customers in the Northwest region of NSW an express overnight freight service. Customer demand quickly saw Tamex increase its distribution area to include overnight services to Southeast Queensland, Newcastle, the Hunter Valley and Dubbo.
Further expansion in 1996 saw the commencement of connecting overnight services between Newcastle and Brisbane (and all points in between).
For all your custom safety signs and directional signage at your facility put Industroquip to the test today, our number is 1300 554 192 and our email sales@industroquip.com.au