Spill Kit Tool Box Talks
Author: Scott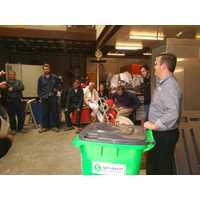 The Spillsupport Tool Box Talk is a great way to bring all your workshop staff up to speed with the basics of spill control
Spill Kit Tool Box Talks!
Do your staff know what to do in a Spill Emergency?
The Spill Kit Tool Box Talk is a great way to bring all your workshop staff up to speed with the basics of spill control.
Whilst it doesn't replace proper spill training it is a great refresher or way to ensure all your staff at least know the basics of using the contents of a spill kit.
To arrange your Spill Kit Tool Box Talk contact our team on 1300 554 192 or sales@industroquip.com.au anytime.
Pictured on this post is a Tool Box Talk that Brendan Clayton from our team delivered last week for a valued client in Newcastle.
---
Leave a comment