Temporary Fencing, Hoardings & Printed Fence Mesh

Temporary Fencing, Hoarding & Printed Banner Mesh!
Temporary Fencing that's Durable, Compliant, In stock and Affordable!
Industroquip is a leading supplier of temporary fencing to construction sites across Australia. Industroquip have well-stocked warehouses in key locations including Sydney, Melbourne, Brisbane, Adelaide and Perth, combined with our easy ordering, means you can buy temp fencing in Sydney and all other capital cities and regional centres across the country.
So, whether you need to buy temporary fencing in Perth, Brisbane or Melbourne right across Australia, our warehouses have temp fencing in stock and ready to ship to your site - fast!
Why hire temporary fencing when you can buy?
Buying temp fencing is far more economical in the long run: you're getting a sound, reliable, high quality and fully supported product, backed by excellent service. Our temp fence panels are available to buy at a single fixed cost. You know what you're getting straight up and can use the panels again and again.
Additionally when you buy temporary fencing there is no chance of hidden fees or additional charges. Your fence is yours to set up, move, dismantle and rearrange however you want. Being able to work to your own timeline allows flexibility in delivery, setting up and dismantling your temporary fencing.
Furthermore, you can buy temporary fencing online in just a few clicks. No account set up, monthly invoices to deal with or ongoing budgeting. And after a few projects, your fencing would have paid for itself, and you haven't sunk unrecoverable money into hire.
Industroquip is the leading temporary fencing shop that supplies directly to some of Australia's biggest infrastructure projects and events.
With a range of happy customers in the civil and construction industries, we're known as the temp fencing shop that supplies your fence on time and on budget. We regularly supply to hire companies, events, road work contractors and local councils right throughout Australia.
If you want to buy cheap temporary fencing for your project, that is still great quality and easy to install, call our friendly customer service team now on 1300 554 192.
Get your Temp Fence branded!
With Industroquip you can now get your branding across your temporary fencing, turn your construction project fence into a marketing powerhouse with Bannamesh – Marketing on a roll!
Industroquip are the Australian manufacturers of Bannamesh – Marketing on a roll! Which is the highest quality fence banner mesh in the Australian market.
Need Acoustic Sound Barriers for your Temporary Construction Site Fencing?
Industroquip also has a large range of Acoustic Sound Barriers to stop unwanted noise upsetting neighbours especially on large infrastructure projects in cities like Sydney & Melbourne.
Temp Fencing For Sale Sydney. Bannamesh Sydney, Printed Fence Mesh Sydney, Printed Banner Mesh Direct from the Australian Manufacturer
---
Popular Items
---
Expert Advice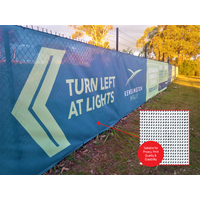 Do I have to buy Bannamesh in full 50 metre rolls?
Our full standard roll size is 50m long; however, we can run smaller prints to suit your project.
Read Blog