Respiratory Protection

Need Respiratory or Breathing Apparatus? Breathe easy! Industroquip Safety & Signage have Australia's largest range of Respiratory Equipment in stock ready for fast delivery Australia wide.
Whether you are looking for Sundstrom, 3M, Moldex, ExoGuard, Scott, ProChoice, Maxisafe, Drager and Uvex Respirators, Disposable or Reusable you are sure to find the correct masks, filters, cleaning equipment in stock ready to despatch immediately.
If you require technical support please contact us on 1300 554 192 now and we'll be happy to assist you.
Huge range of Respirators available for Fast Delivery Australia Wide including Sydney, Newcastle, Brisbane, Melbourne & Perth.
---
Popular Items
Popular Brands
---
Expert Advice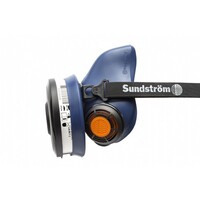 Does the Sundstrom SR100 & SR200 have a shelf life?
As the Australian distributor of Sundstrom respirators we are often asked what is the expiry date or shelf life on Sundstrom respirators.
Read Blog