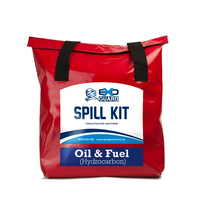 Here are the 2 key considerations when purchasing a spill kit
Unfortunately at some point in time almost every workplace whether it is a waste facility, coal mine, construction site or even a mechanical workshop will experience a spill or leaking liquids that need to be attended to, it is a must for all workplaces big and small to have an action plan in place to ensure that these spills are managed properly in order to prevent these spills and leaks from entering and polluting soils, ground waters and storm waters.
Here are 2 key things to consider before purchasing a spill response kit in Australia.
1. SIZE & CAPACITY OF THE SPILL KIT
You need to consider the maximum of liquid that could spill at one time, not nessecarily the total ammount of liquid you are storing on your premises.
It is wise to ask your spill kit supplier 'How many litres can this spill kit absorb' because most people sell spill kits in wheelie bins that come in two sizes, 120 Litre & 240 Litre but this is the size of the bin not exactly what the spill kit can absorb.
2. WHAT ARE THE LIQUIDS I'LL NEED TO ABSORB?
This is crucial to spill control success, for exmaple and very simply put but there are two main types of absorbents, Oil Only Absorbents only absorb Oil, Fuels and other hydrocarbons however cannot absorb water or water based liquids, so if you need to absorb coolants, degreasers and paints you will require a general purpose or hazchem spill kit.
Speak to one of our team on 1300 554 192 if you are ever unsure.
Industroquip stock a huge range of Spill Kits ready for fast shipping Australia wide.