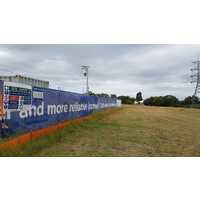 3 Great ways to reduce wind loading on your banner mesh
We often get asked how can we reduce the wind loading on our temporary fencing when installing printed banner mesh? This is a great question and initially we recommend making sure the temporary fencing has been adequately braced. However there is 3 more things you can do when it comes to ordering your banner mesh for your construction site and we go over each of these in more detail below:
Number 1 – Wind Slits.
Firstly we recommend you request wind slits on your banner mesh if it is going to a high wind area, we mainly do these around Melbourne and Perth as customers in these locations seem more wind conscious therefore they must have higher winds at times.
Wind slits are a circular flap cut into the mesh which blows open in the wind to help relieve wind loads on your temporary fence and banner mesh set up. As your Bannamesh is mounted to one side of the temporary fence this only provides wind relief from one direction and the banner mesh must be installed with this in mind.
Number 2 - Install individual banner mesh panels
Alternating each temporary fencing panel with a separate banner and leaving the remaining without greatly reduces wind loads. The downside is that this can look a little unsightly, particularly on civil or demolition sites.
Some customer install individual banner mesh panels on each temporary fence panel and allow the wind to flow through the gaps in the fencing and find this can also work to some degree.
Number 3 – Demand BreezeBanna™ Australia's banner mesh solution for high wind regions.
BreezeBanna is a product designed to suit high-wind areas and the harsh Australian climate. It is suitable for many different applications such as attaching onto the scaffolding, temporary fences, and between fence poles. It creates great advertising opportunities by using your worksites to get your "marketing on a roll".
BreezeBanna is a type of scaffolding signage that is a lot less wind-resistant than most other printing solutions. These scaffold wraps' open weave makeup allows wind to flow freely through the mesh which, in turn, puts less load on the structure to which it is attached to.
Because of the open weave makeup, the print quality cannot be as high as our other premium mesh types. However, you will still be impressed with the print quality, so do not wait any longer and give our Breeze Banna a try! This product has many amazing properties, and some of the most important ones are:
it is a great choice for high-wind area advertising

it can be a fantastic building and scaffold wrap

it works amazing for scaffold signs
DESCRIPTION
Our BreezeBanna is suitable for all ranges of application – including scaffolding signage and building wraps. This construction features a great combination of image quality and suitable air permeability.
This material is made with an RS10 weave (Ripstop). RS10 is exclusive to BannaMesh and will ensure that you don't get tears in your product, making them last much longer. It is important to know that our scaffolding signage can last up to 4 years outdoors – if used correctly, of course. Just be sure to store it properly and you will be able to use it for years!
SPECIFICATIONS
Weight: +/- 200 gsm
Threads: 9 x 9 per inch
Base Fabric: 100D x 100D (woven scrim)
Roll Widths: 1.6m, 1.8m
Roll Length: 50m
Fire Retardant: Certification available upon request.
Air Permeability: 4,064 MM/Sec
Tensile Strength: Warp – 900 N/5cm, Weft – 810 N/5cm
Tearing Strength: Warp – 390 N/5cm, Weft – 230 N/5cm
Temperature Resistance: Low -20°C, High +70°C
ORDERS
Even though you do not have to buy a full 50m roll, we must say that this always is the most cost-effective way to get the best value for your money. However, if you really don't need a full standard roll, we can definitely run a smaller print to suit your project.
Since every site and situation is different, you may need a highly customised product to suit your individual needs. The good news is that we at BannaMesh offer a wide range of products that work great as scaffolding signage and building wraps, so check out our offer to see what product suits your needs in the best possible way. One thing is certain – our BreezeBanna will do wonders for your advertising needs
Call our team now on 1300 554 192 if you have any further questions