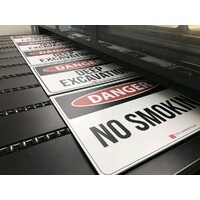 Overview of the 3 largest manufacturers of Safety Signs in Australia
In our opinion and knowledge of the Australian Safety Sign Industry we believe there are 3 main players in the Safety Sign Industry who actually manufacture the Safety Signs here in Australia and supply almost all other safety sign suppliers in the industry.
The first most would have heard of or seen there name on safety signs somewhere in their travels or at work and that is Brady Australia.
Brady Australia are part of a global organisation who have been operating for an impressive 107 years and have locations in the Americas, Africa, Asia, UK and Europe.
Brady offer a quality range of Safety Signs and other identification products and provide their products through a large network of distributors around Australia.
Brady also supply a range of Safety Label Printing Machines that are used in industrial facilitities and mining companies around Australia, Brady Label Machines are distributed through Australia by some large electrical wholesalers and safety product suppliers like Industroquip & Brady's retail arm Seton Australia.
Another well respected manufacturer of Safety Signs in Australia is our friends at Uniform Safety Signs in Melbourne.
Uniform Safety Signs have been manufacturing Safety Signs in Australia since 1991, they have over 30 years experience.
Uniform Safety Signs have over 3000 distributors in Australia that sell their large range of Safety Signs meaning the Uniform Safety Sign range of Safety Signs is available in almost every building supply store, hardware, safety and workwear shop and also distributed online by numerous suppliers.
Industroquip is a leading Australian manufacturer of Safety Signs owned and operated by the Clayton family who have been heavily involved in manufacturing quality products since 1975.
Industroquip offers the largest range of Safety Signs in the Australian market and the unique advantage of allowing end users to buy direct, this saves money and time and gives you the ability to have your Safety Signs completely customised to your exact requirements - FAST!
Industroquip sells direct and also has just shy of 250 distributors selling their range of Safety Signs meaning that in many regional areas that aren't easily serviced by suppliers in the main centres they have distributors that are able to assist.
Industroquip is on a mission to "Accelerate Australian Workplaces to Zero Injuries" through offering Quality & Compliant Products, Fast & Friendly Service, Trusted Safety Advice and Customised Manufacturing - FAST!
The logo's, names and trademarks shown in this post are the property of their respected owners, this post is to inform the Australian public on Australia's main players in the Safety Sign industry and in no way is meant to influence purchasers decisions or show any affiliation between the companies, it is an opinion post of our authors best knowledge of the industry. E&OE.