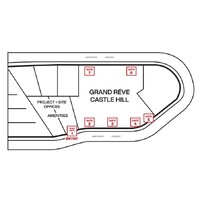 Often on Construction Sites there is a need to print diagrams and site maps to show delivery drivers where to make deliveries or show contractors where the site office is etc, often project managers spend alot of time printing off maps from Nearmaps or Maps Google and add notes and so forth but it rarely works or looks professional.
We have a team of graphic artists who can draw, design or create almost anything, don't waste time trying to come up with something yourself just throw it at our team and they will do the rest.
Just this past week we've done exactly that for the Grand Reve construction site in Castle Hill where they are creating a large apartment complex that has many street frontages and gates.
Grand Reve – a curated collection of luxury apartments nestled in a peaceful, treelined cul-de-sac in the heart of Castle Hill. Experience the best of both worlds, where urban vitality meets neighbourhood serenity.
We loved working with the team at Grand Reve on this exciting project and look forward to seeing the continual progress over the coming months.
Reach out to the team today on 1300 554 192 to get your site maps and direction boards printed professionally giving your visitors a great first impression and preventig any confusion on site.
Industroquip also stock a large range of standard safety signs and can customise your construction safety signs to your exact requirements.