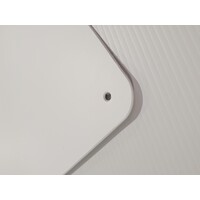 We often get asked, what are Poly Safety Signs like? Here is the 8 key advantages...
The 8 Key Advantages of Polypropylene Safety Signs?
Carbon Neutral
Industroquip Poly Safety Signs are completely Carbon Neutral which is becoming very important for our environment and also meeting environmental goals of construction projects throughout Australia.
100% Recyclable
All our Poly Safety Signs are 100% Recyclable making them a great choice for those that are environmentally conscious when purchasing safety signs.
Made from 50% Recycled Material
50% of the Poly substrate used in the manufacture of Industroquip Safety Signs is recycled poly material, further enhanching the environmental friendliness of these safety signs.
Completely Durable
All Safety Signs made from Polypropylene by Industroquip in Australia are completely durable and will last for many years in the harsh Australian working environments, mainly used in the Construction & Warehousing Industries in Australia whilst the most durable Colorbond Safety Signs are used by mining companies and harsher environments.
UV Stable
When purchasing Safety Signs from Industroquip you can rest assured that the poly we use on our poly safety signs is made in Australia to withstand the harsh Australian sun.
Made in Australia
Industroquip Safety Signs are completely manufactured in Australia, the Polypropylene material is manufactured here and the complete printing process is completed right here in our Rutherford state of art print facility, keeping jobs here and keeping the money in this great country
Lightweight & Flexible
Our poly safety signs are lightweight and very flexible, they will not become brittle and snap etc, they are the perfect choice when purchasing Safety Signs.
Suitable for Indoor & Outdoor Use
Industroquip's Poly Safety Signs are suitable for both indoor and outdoor situations, most commonly used on constructions sites, in warehouses and other similar work areas.
For more information on our large range of Safety Signs please contact us now on 1300 554 192 or browse our huge range on here