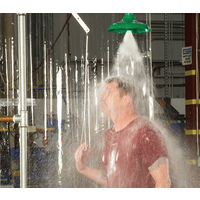 Are your Emergency Shower and Eyewash Units really compliant with the AS4775? - The scary news is most sold in Australia actually aren't compliant!!!
Are your Emergency Shower and Eyewash Units really compliant with the AS4775? - The scary news is most sold in Australia actually aren't compliant!!!
"Simultaneous Operation" is a major issue!
Since the publication of AS4775 Emergency Shower and Eyewash Equipment, many discussions have been had with regard to the retrospective application of this Standard across various industry sectors. However by 2017, now almost ten years after publication on the 26th October 2007 and some 13 years after ANSI Z 358.1 – 2004, it is not unreasonable to expect that all emergency combination showers supplied through this time to the Australian market would meet the 'simultaneous operation' performance requirements of those referenced Standards!
Prior to publication of the Australian Standard, ANSI Z 358.1 had been referenced across many areas from Defence, Laboratory Design and Construction through to Waste Water Treatment. Statements of compliance have largely been commonplace and not necessarily always independently third party certified.
What is interesting is that despite such compliance statements, many designs with varied performance have found their way into installations within the Australian marketplace.
One of the most critical, yet widely misinterpreted and often ignored or unknown is the performance criteria concerning 'simultaneous operation'!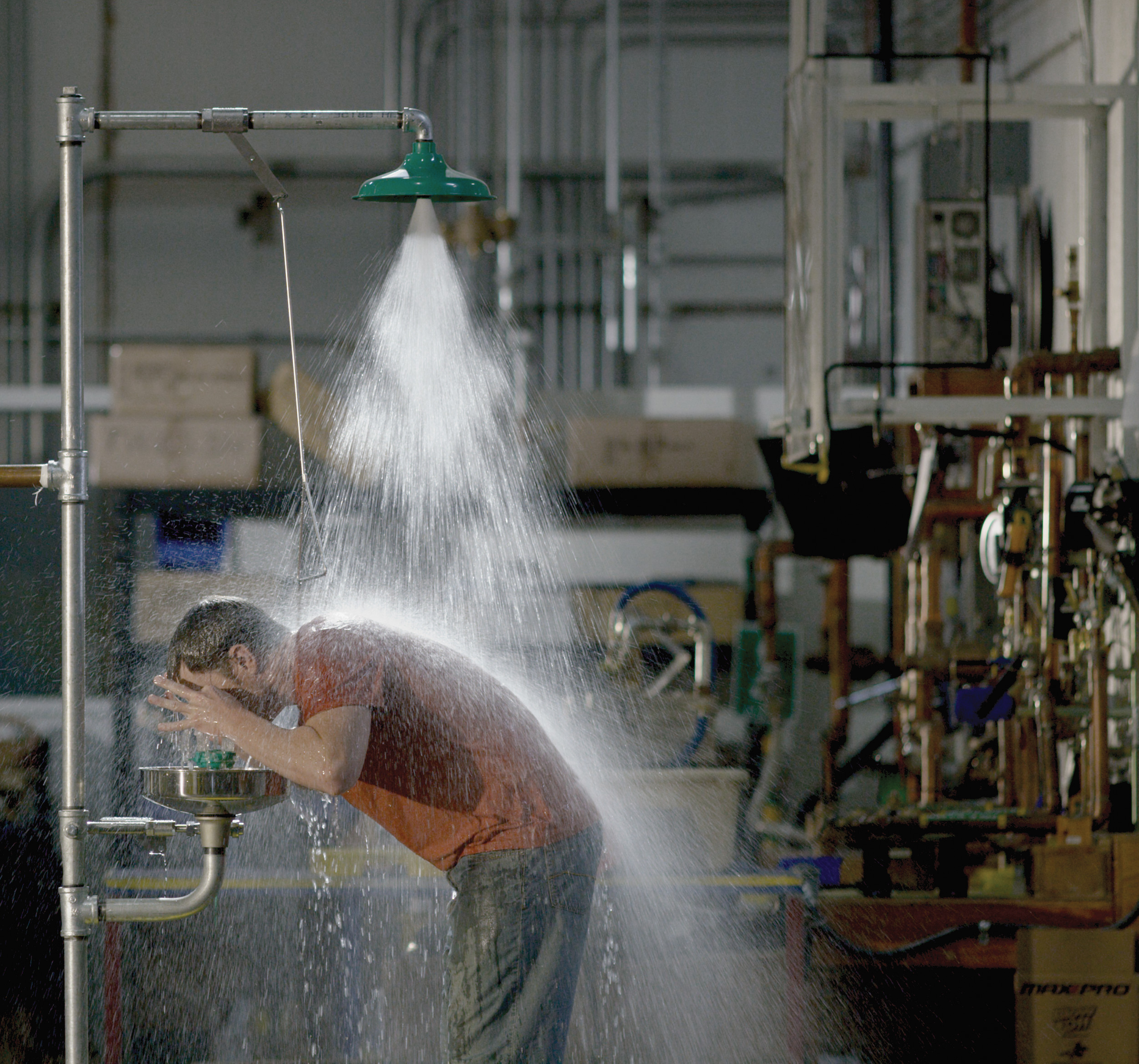 The publication of AS4775 saw these performance requirements introduced to be consistent with what was the current version of ANSI Z 358.1 - 2004. However, further changes were made in the 2009 version of the ANSI Standard providing greater clarification and confirmation of the performance requirements of 'simultaneous operation'.
The choice of an emergency combination shower is usually made to provide the ability to flush any part of the body that may have been exposed to a hazardous substance and correct performance is critical!
AS4775 requires that upon installation the performance of the shower, eyewash and eye/face wash shall be verified according to their individual performance requirements "….whilst operating simultaneously." (AS4775 – 2007: Section 9 Combination Units)
Site surveys have found that in the many installations, this critical performance requirement was simply not being met by the products installed at these facilities.
It is acknowledged that there are a number of influencing factors that may affect performance including adequately sized pipework, water supply pressure, malfunctioning components and so on. However, once determined that these elements are satisfactory it becomes necessary to look more closely at the emergency combination shower itself, its design and component make up.
Closer scrutiny of some designs found that preferred pressure compensating flow controls (green line balanced performance) do not appear to have been used, instead, relying solely on fixed orifice control (blue line variable performance) such as a ball valve to regulate the outlet flow of the eye or eye/face wash resulting in performance variability as pressures fluctuate. Flow controls to regulate the high volume flow rate required by the shower head were also unable to be identified in a number of cases.
The performance of many designs is truly tested when "simultaneous operation" is assessed. In designs that are not balanced, actuating the shower simultaneously with the eye or eye / face wash results in a pressure drop leaving the eye or eye / face wash outlets starved of flow with the emergency combination shower failing to comply with AS4775-2007.
"Simultaneous operation" of the components that make up emergency combination showers is a mandatory performance requirement of AS4775 - 2007! A very simple check of those products installed at your facility may just uncover that workers may have been left vulnerable exposing employers to significant risk!
If you are unsure if your units are compliant, contact our team now on 1300 554 192 or sales@industroquip.com.au to arrange an onsite shower test anywhere in Australia.
The Haws range of Emergency Safety Shower & Eyewash Solutions are fully compliant offering simultaneous operation, to view this great range click here.