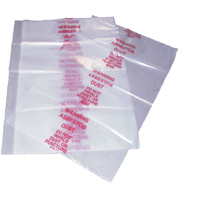 Industroquip stock a large range of asbestos bags to suit every application from large scale asbestos removals to smaller asbestos removals. With our wide variety of sizes and high quality we're able to provide asbestos bags to suit your needs.
Our asbestos bags are clear in colour and printed with Asbestos Warning in red. Our asbestos bags are heavy duty 200um LDPE with a welded seam, we also stock hazibags for bulk asbestos removal jobs ready for fast shipping Australia wide
Printing on all our asbestos bags comply with the recently introduced GHS Regulations.
Put the team at Industroquip to the test today for all your asbestos disposal bag requirements