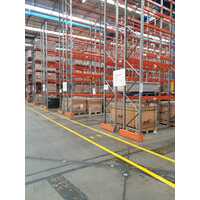 We often get asked what is the best line marking tape in Australia, find out more here....
Often in warehouse and manufacturing facilities across Australia, painted line marking just doesn't cut it, it fades, it wears with the constant forklift traffic and truck movements in busy warehouses.
Another area of concern with traditional line marking you have to grind or paint over lines every time your manufacturing plant move machinery or your warehouse is rearranged to cater for expansion of your business or changing requirements.
Not to mention in leased warehousing facilities you have to grind it off to make good the facility before the leaase ends to save yourself from the landlord or property owner retaining the deposit or oncharging you to remove your line markings.
Whilst we do offer basic line marking tapes for low traffic areas or temporary usage in our range of safety and signage products for these scenarios we recommend a product from a company called Cotewell called MightyLine Line Marking Tapes,
Mighty Line Standard Floor Tape has a thicker finish compared to paint and other tapes and it has been designed to take a beating from industrial wheel traffic. This is what gives the manufacturer the confidence to offer a 3 year limited warranty!
Being simple to install and hard wearing, it will soon become your ultimate go to product for internal line marking. Best of all, your can remove it whenever you no longer need it, leaving no sticky residue behind.
Cotewell also offer X-Treme Freezer Tapes for use in cool rooms and food storage facilities.
Your can find out more by visiting Cotewell at www.cotewell.com.au
For all other Warehouse Safety Signs and Products the team at Industroquip are keen to assist you, with Australia's largest range of safety signs and safety products and the unique ability to provide complete end to end services from consulting through to installation of warehouse safety products, some of our common products for warehouses are Loading Dock Safety Gates, Mezzanine Safety Gates, Handrail Systems, Driver Safety Zones, Bollards, Speed Humps, Safety Signs and much more, reach out to our team today to discuss your warehouse safety needs today.