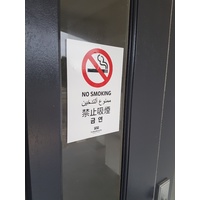 With the ever increasing multiculturism in Australia it has never been more important to have Multilingual Safety Signs & Stickers in the workplace, for example one of our valued clients in Sydney had cleaners that were new to Australia and spoke in a different language, they couldn't read spill kit on the wheelie bin spill kits so emptied the entire contents into the skip bin costing the company alot of money, luckily in this situation it wasn't a safety hazard that was overseen due to the worker not being able to read the warning.
Industroquip Safety & Signage can manufacture any of our standard safety signs and stickers as Multilingual and Bilingual Safety Signs.
Contact our sales team on 1300 554 192 or sales@industroquip.com.au now for a quote on your exact requirements.