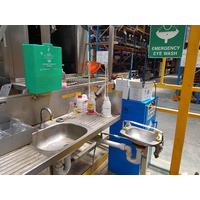 Working safely with hazardous chemicals, radioactive and biohazardous substances can be a challenging and dangerous environment.
Managers, workers and visitors need to be very aware of the potential dangers and place signage to inform users where appropriate.
Industroquip have a range of Danger SIgns that are ideal for use in these environments like laboratories, manufacturing plants, quality control areas, schools and chemical storage areas.
Industroquip also have a large range of chemical burns treatment products, first aid kits, spill kits, spill bunding, dangerous goods storage equipment and eye wash and safety showers for these types of workplaces.
We offer fast shipping Australia wide and expert advice!