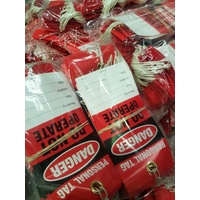 Made in Australia for Australian Conditions!
When looking for vibrant, tough, durable safety tags to withstand the harsh Australian industrial and mining environments look no further then Industroquip's quality range of Safety Tags
Industroquip Safety Tags are all manufactured right here in Australia for our harsh environments whilst supporting Australian jobs and families.
Whether you are after Danger Tags, Caution Tags, Information Tags or your own customised tag for your site specific situation contact the team at Industroquip Safety & Signage now on 1300 554 192.
As the manufacturer we can add your logo's, produce tags in your corporate colours and also assure you of the highest quality safety tags.
All Industroquip Safety Tags are produced with brass eyelets and strings to save your staff carrying cable ties around with them at all times.
Our standard tags come in packs of 100 and are always in stock ready for overnight delivery anywhere in Australia along with our new double safety tag holder that easily freestands on a desk or fixes to your walls in or around your factory or site.
Industroquip work with Mining, Railway, Construction, Scafffolding and Construction Companies in the manufacture and supply of Safety Tags and Custom Branded Safety Tags.
Contact Industroquip Safety & Signage today for all your Lock Out, Tag Out Requirements.