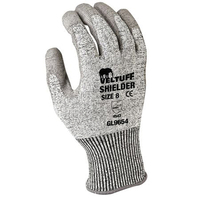 Cuts to the hands are the most common workplace injury and represent around one-third of all hand injuries (Australian Safety and Compensation Council, 2008) and are considered by Australian organization to be the most likely cause of hand injury; measured at a likelihood of 64 per cent. Furthermore, injuries to hands represented about 13 per cent of all Australian Workers Compensation Claims in 2013-14 and according to the National Safety Council, a single hand laceration can cost over $16,000 in direct and related costs; if a tendon is severed, the cost is more than $90,000.
Often the response to a cut injury is to introduce gloves with a higher level of cut resistance. However, this can be at the expense of comfort, dexterity and grip. Using a thinner glove with an EN388 Cut Resistance level of 5 would not only increase comfort, but also worker acceptance and therefore protection.
At Industroquip, we believe a glove has to offer the user comfort whilst remaining durable, comfortable and provide the appropriate level of grip.
Check out our Cut Resistant Gloves here