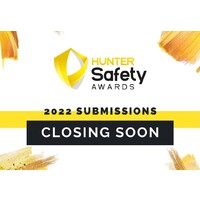 Time is running out, get your submissions in now!
Established back in 2014 by local Hunter Valley business women and safety specialist Sarah-Jane Dunford, the Hunter Safety Awards were born out of desire to recognise companies and individuals within the Hunter region who are demonstrating best-practice and innovative approaches when it comes to workplace health and safety (WHS).
Whilst the name may be the Hunter Safety Awards, these awards acknowledge the full gamut of WHS, including the idea of embracing wellness as part of a workplace, maintaining a healthy life - both at work and at home, as well as the more traditional safety elements such as PPE, risk assessments and safety management planning.
The 2022 submissions for the Hunter Safety Awards are due in on the 17th of November 2021, have you got your submission in for this year? If not download the criteria now by clicking here.
The Industroquip team would encourage all to submit their innovations or enter your company into the competition now to get the recognition you deserve for your WHS efforts.
The sixth annual Hunter Safety Awards wil be held Friday, 11 March 2022.
This awards ceremony will be dedicated to awarding leading WHS professionals and industries across a range of health, safety and wellbeing categories and is a night not to be missed for all WHS professionals out there.