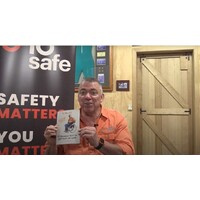 A powerful account of how a Workplace Accident changed Woody's life forever
12 Reasons NOT to get hurt at work is a fantastic new book written by James Wood, giving the reader a powerful account of how a workplace accident changed his life.
Not what he set out to be originally maybe but James Wood (Woody the safety bloke) has become an internationally recognised safety speaker.
His passion for sharing Safety Messages and educating employees, employers and management teams on the real impact of workplace injury has seen him share his message from the workshop floor to the boardroom.
Woody as he is often known, uses his experience of having a workplace injury and the knowledge gained from visiting workplaces for over 25 years to share the ways that we can all prevent workplace injury and fatality.
The impact of hearing James Wood speak is something that will stay with you for a long time.
James has won numerous awards for his work in the field of Safety Information and was acknowledged by his peers at the Hunter Safety Awards as the 2016 WHS Champion.
We strongly recommend any business or individual who wants to get the message out to their staff, family or friends to be safe at work, to purchase James' book by clicking the link below, Woody has released 2 versions of his short book. One without swearing to keep the HR people happy and the other is written in the way that he and many others talk. You can choose which version will suit your people best. Click the link below to buy your copies today and help our friend Woody become a best seller!