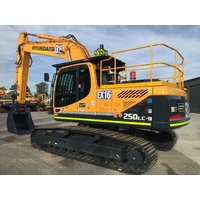 It is a good question we often get asked and for a good reason.
Here in Australia unfortunately a large percentage of safety labels and stickers for mining machinery and earthmoving machinery are non-compliant.
We might sound like we are just having a little dig at the mining and earthmoving industry (pun intended) however you can't afford to have your machines kicked off site sue to non compliant safety decals.
Why are there non compliant safety stickers in Australia?
With alot of excavators, graders, dozers, dumpers and other earthmoving machinery manufactured in the US, Europe and Asia and alot of these machines coming in prefitted with safety labels and markings that are compliant in the country of origin but not here in Australia.
Another factor is there is alot of safety label printing software and printing machinery available for purchase for a few thousand dollars as a so called complete safety label printing package, the majority of these machines are manufactured in the USA along with all the software programs.
All machinery safety stickers in Australia need to be fully compliant to Australian Standards.
What is an easy way to pick a non compliant Machinery Safety Sticker?
The two most common machinery safety labels that are clearly non compliant are Danger Safety Labels and Warning Safety Labels.
An example of a Non Compliant Machinery Danger Label is like the one below, the Danger header is clearly not to Australian Standards.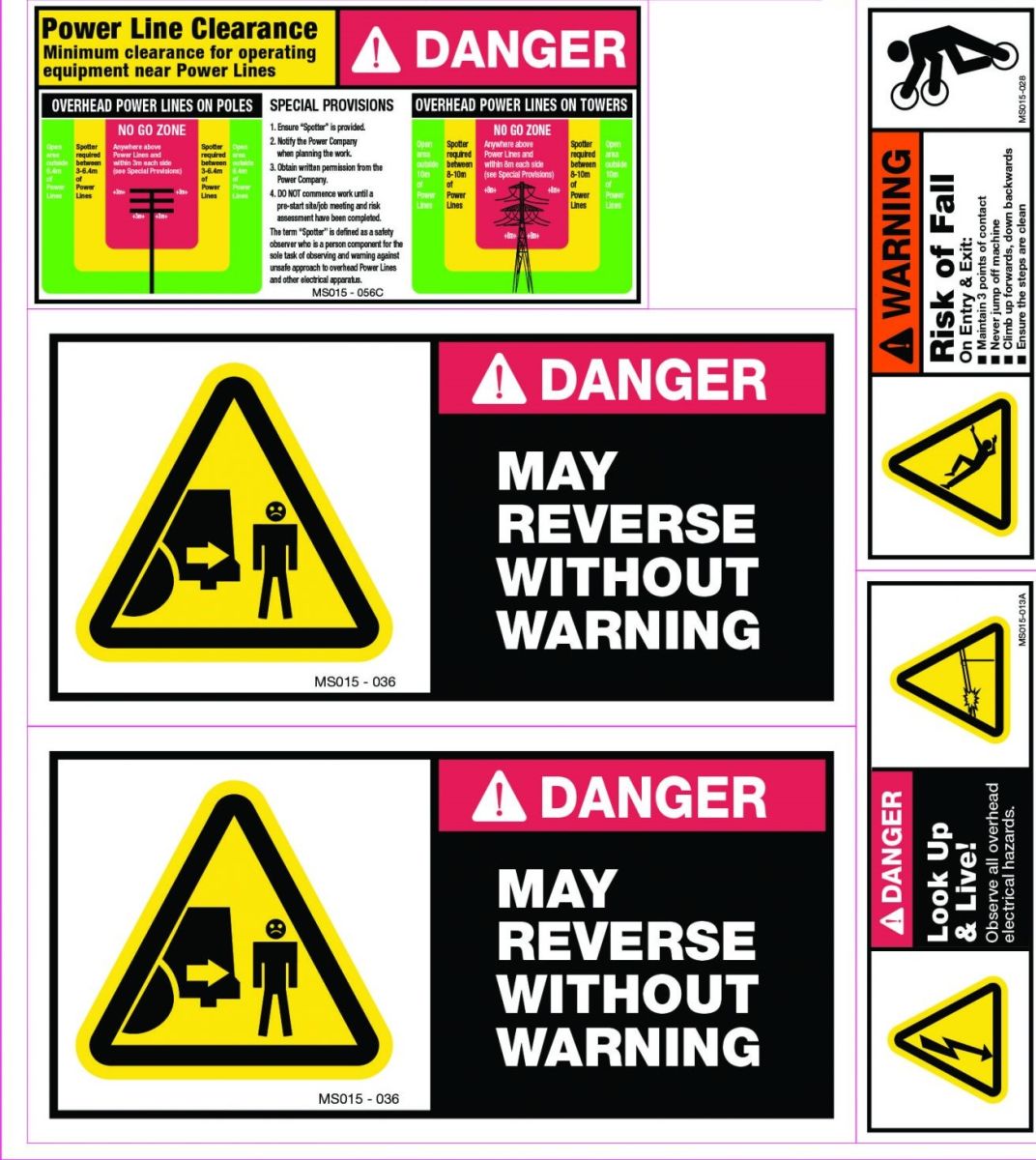 The Danger header of all Machinery Safety Stickers in Australia should look like this: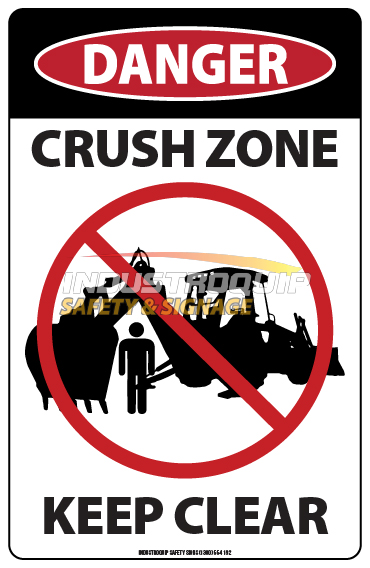 Here is a quick video explaining Danger Safety Labels in Australia
Warning Safety Labels in Australia should always also comply with Australian Standards here is an example of a readily available non compliant warning sticker pack available on the Australian market;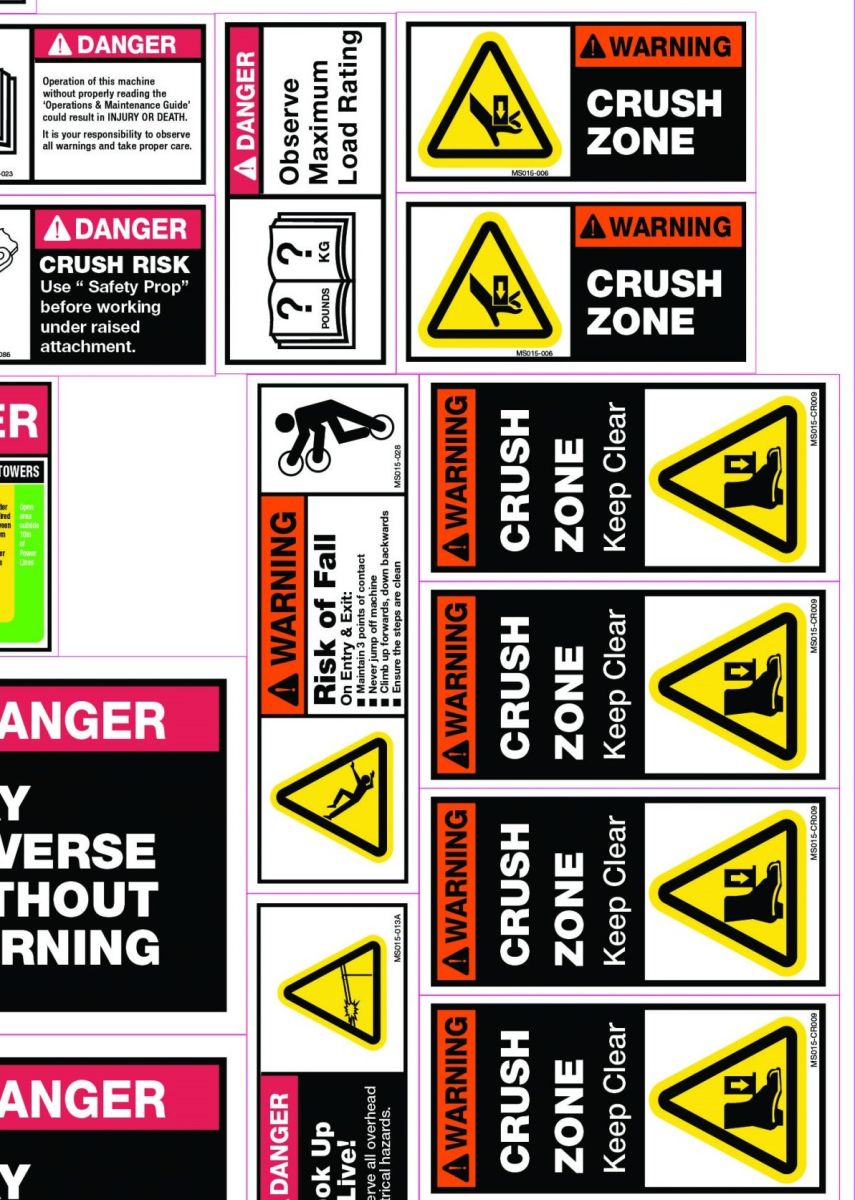 The Orange and Black headers are clearly not compliant, however the yellow warning triangles are arguably compliant, the header on all warning labels on machinery in Australia should look like this: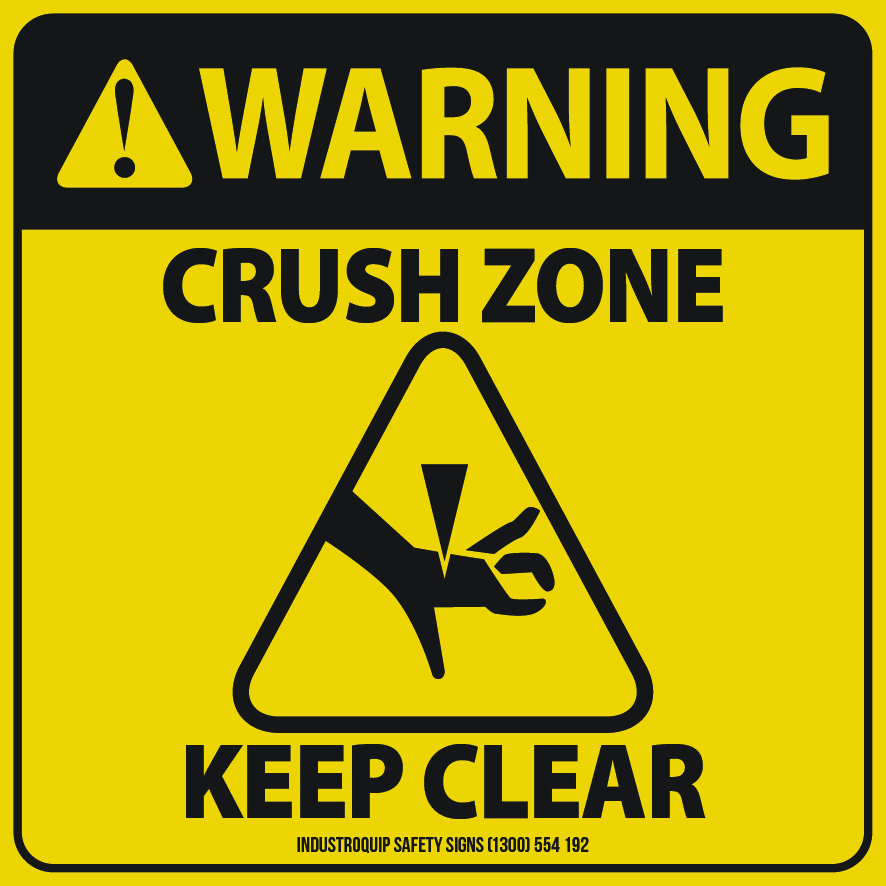 We've put together a quick video to explain what machinery warning safety labels in Australia should look like, check it out:
So there is more than meets the eye when it comes to compliant machinery safety labels in Australia, unfortunately its not as easy as buying some fancy little label printing package on Amazon or through one on these online stores and plugging it in and pressing print.
What is the Country of Origin of my Earthmoving Machinery
Country of origin represents the country or countries of manufacture, production, design, or brand origin where an article or product comes from. For multinational brands, CO may include multiple countries within the value-creation process.
It is a really interesting study to work out where your machine was manufcatured, often we jump in the cab and it purrs away doing its job with little thought about where it was manufactured let alone whether or not the machinery safety stickers are compliant.
So we've put together a list of some of the common earthmoving machines here in Australia and where they are made.
Caterpillar - The majority of Caterpillar machines are manufactured in the USA.
Komatsu - Much of Komatsu's machines are manufactured in the USA
John Deere - Much of John Deere is still American made
Case - Mostly made in Amercia, some in China
Hitachi - Japanese
Kubota - Mostly made in Japan
Volvo - All over the world from India, Sweden, USA and Canada
Sany - China
Doosan - Republic of Korea
Wacker Neuson - Made in Austria
Yanmar - Europe
ASV - United States of America
Bobcat - North Dakota USA
Kobelco - Japanese
JCB - UK< Brazil, India and the USA
So this explains why many of the machines in the Australian market need restickering when they arrive to the country, it really is the responsibility of the importer of the machinery to ensure compliance to Australian Standards.
All Industroquip machinery safety labels are extremely durable and designed to withstand harsh environments, while increasing the safety of workers Australia wide by being compliant to Australian Standards.
We trust this guide has helped if you require any further information please reach out to our team on 1300 554 192 or sales@industroquip.com.au