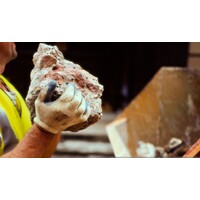 In Australia 74 Million tons of waste is produced each year, with 44% coming from Construction and Demolition.
Just in New South Wales 12.5 million tons of Construction Waste is generated each year.
That is alot! It's equivalent to 1.5 million skip bins or 1 full skip bin every 20 seconds!
Over the past 13 years, household waste has reduced by 20% per capita but we aren't doing so well in New South Wales when it comes to construction and demolition waste which has increased by 32% in the same period.
We often think of waste as a landfill problem but it isn't just materials that are wasted, it is time and money, every skip bin costs money, in fact, just collecting the waste and disposing of it costs the construction industry in Australia $2 billion dollars per annum, but these costs are just the tip of the iceberg. We often don't stop and think about the cost of wasted materials, the cost of labour and handling, the transport costs, scheduled delays for rework and the embodied carbon in wasted materials.
Reducing construction waste is not only good for the environment, its also good for your bottom line, whilst its hard to manage on site we recommend separating anything that can be recycled for example steel, concrete etc on your site and recycling where possible.
Industroquip have been working with many construction and demolition companies providing signage and barricades to provide separate storage areas for construction and demolition waste that can be recycled, we also offer Asbestos Rated, Asbestos Disposal Bulk Bags to help protect the environment and also people from the risks associated with dumping asbestos.
Reach out today on 1300 554 192 for more information