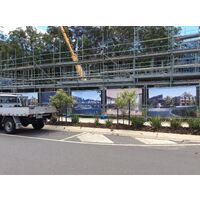 The short answer is No!
As we digitally print all our Premium Fence Banner Mesh, we can print 3D Renders of your proposed building or development, we can print in any colour and we can even print photos of past projects you name it.
Digital printing doesn't use plates the way offset does, but instead uses options such as toner (like in laser printers) or larger printers that do use liquid ink.
This allows us to print completely customised designs in once off prints and we can print pretty much whatever you can imagine and all for the same pricing.
We trust this helps, if you have any further questions about Printed Fence Banner Mesh please contact us anytime on 1300 554 192 or sales@bannamesh.com.au