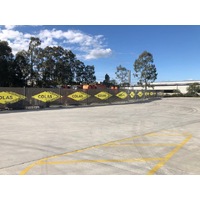 Colas Australia is a leading provider of sustainable pavement construction and maintenance solutions across Australia.
We design, construct, maintain and operate a wide variety of road and port projects for public and private sector clients.
The COLAS Australia Group was formed in 2008 with the acquisition of SAMI Bitumen Technologies. The COLAS Australia Group has continued to expand its operations throughout Australia with the acquisition of a number of local companies and is now supported by over 500 employees across 15 work sites in 5 states.
The Bannamesh team at Industroquip were pleased to work with the Colas team at their site in Yatala Queensland recently, we designed, printed and installed fence banner mesh around their yard to improve the appearance of their facility and at the same time promote their brand to visitors and passersby.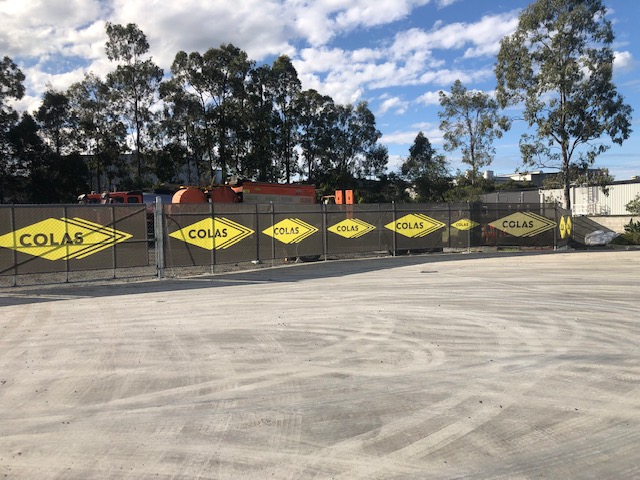 If you are looking for mesh fence banners for advertising on construction sites in Australia, you've arrived at Australia's No 1 destination for all things construction signage, banner mesh and fence mesh banners, Industroquip's construction site signage division 'Bannamesh' is Australia's leading manufacturer of mesh fence banners.
There are multiple ways to market your business whether it is a small to medium enterprise or large a large national or global company.
The most cost-effective and high impact form of advertising that you can use to get your brand or name out to a potential customer is through printed mesh fence banners.
Printed banner mesh can be used for fence advertising, fence wrap, wrapping scaffolds, covering hoardings and much more right around your construction site, making it a highly versatile advertising medium.
WHAT MAKES MESH FENCE BANNERS SO GOOD?
Using mesh fence banner advertising is the most cost-effective advertising medium available to the market, you don't pay; per view, per click, per enquiry, postage etc.
Adding your logo to a custom construction banner or fence wrap is a compelling marketing tool to offer information about the project. Furthermore, a printed fence mesh can offer insight into the final result as well as offer information to the community about when it will be finished.
Once you invest in High-quality mesh fence banners or fence wrap you can reuse them multiple times meaning the cost per lead is lowering continually. On top of this, a banner mesh is the cheapest advertising medium per sqm known to the market. The printed mesh helps conceal building sites from public view and at the same advertise your brand.
The printed mesh fence material allows air to pass through the surface offering reduced wind loading. The increased airflow removes any concerns of adverse weather.
HIGH IMPACT ADVERTISING
We've all seen Billboards on the side of the road and know we'd love to have one for our own business but the price is often very high. With fence banner mesh, you can purchase your very own billboard that can be relocated from site to site at no cost. Often construction companies perform work in high exposure areas to car and pedestrian traffic which present a massive opportunity to drive leads and enquiries to your business. Designed to meet your advertising needs. Offering the highest level of print quality, strength and durability – fence mesh signs are the right choice for outdoor fence branding. With a fence wrap, you'll quickly and easily improve the image of your construction site, car yard or event, whilst doubling as an eye-catching marketing tool to promote your brand, product or services.
BannaMesh is the industry leader in the design, manufacturing and fabrication of top quality Fence Mesh Signs, custom printed vinyl, fabric outdoor banners, and more. We are a manufacturer and we will create custom printed fence mesh in the size you require. From covering a single fence panel to kilometres of printed fabric mesh for large civil and construction projects.
Our premium fence mesh range is designed specifically to have a long shelf life. Able to be rolled up, un-rolled and used time and time again. Transportation between uses is easy, the rolled-up mesh is lightweight and easy to handle.
Contact BannaMesh today to get your "Marketing on a roll" via phone on 1300 159 686 or click the button below. We'll be happy to help you with any inquiry and offer only high-quality products to you. Our company was founded by a group of print, manufacturing, and marketing professionals more than 40 years ago. Each of them brought experience, talent, and specialised knowledge to the table, which resulted in a completely new way of doing things in the industry. Since that day, BannaMesh has shown remarkable growth by using the latest manufacturing technologies to craft top-quality banner advertising products for its customers.
As for our premium outdoor banners and banner advertising, we use 13mm Stainless Steel eyelets every 500mm on both the Premium BannaMesh and the Premium BannaMesh Panels. Punched in by automatic machinery, these eyelets are strong, durable, and will never rust! Also, all of our products are made in Australia, which means that you will shop locally and support an Australian business if you opt for our products.
When it comes to our outdoor banners, it is important to make sure that they have stainless steel eyelets every 500mm to ensure even distribution of pressure from wind load on your banners. In turn, this will make your banners last a lot longer in the harsh Australian environment. If you take proper care of our outdoor advertising products, they can last around 4 years, which significantly outlasts our competitors' products. You can use our Premium Banna products in the following situations:
Site Advertising
Site Privacy
Events and Functions
Scaffolding
Promotions
Building Sites
DESCRIPTION
The mesh construction of our outdoor banners is specifically chosen for superb image quality while maintaining ideal air permeability. This promotion banner was formulated for long-term UV exposure with the option to upgrade to building wrap standard. This material is made with an RS10 weave (Ripstop). RS10 is exclusive to BannaMesh and will ensure that you don't get tears in your product, making them last much longer. Just be sure to store your outdoor banners properly later on, as this is the only way to help them last for years!
SPECIFICATIONS
Weight: +/- 280 gsm
Threads: 12 x 12 per inch
Base Fabric: 100D x 100D (knitted scrim)
Roll Widths: 1.6m, 1.8m, 2.1m & 3.2m
Roll Lengths: 50m
#Flame Retardant: Certification available upon request
Tensile Strength: Warp – 1350 N/5cm, Weft – 1350 N/5cm
Tearing Strength: Warp – 300 N/5cm, Weft – 300 N/5cm
Air Permeability: 2,649 MM/Sec
Similarly to our Breeze Banna and Track Banna, our Premium Banna comes in a standard 50m roll as well. Even though you do not have to buy a full roll, this certainly is the most cost-effective way to get the best value for your money. However, if you really don't need a full standard roll, we can run a smaller print according to the needs of your project.
BannaMesh has developed a wide range of top-quality banner advertising products such as outdoor vinyl banners that are perfectly appropriate for your advertising purposes. So, if you want to advertise your company, event, or anything else, check out our website and find an ideal event banner or promotion banner. As for the size, we offer both a big banner and a smaller one. The final choice is totally up to you – just remember that our company is NOT a reseller. It means that you will deal directly with the manufacturer when you pick us.
Contact us on 1300 554 192 for a free sample pack or get a free quote today!