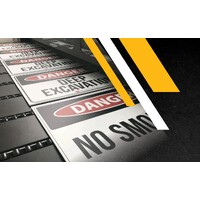 Here at Industroquip we are often asked, what is the purpose of Danger Safety Signs in Australia? So in this article we look at the Danger titled safety signs in Australian workplaces and what the purpose of them is in Australian workplaces and worksites.
Danger Signs have the word 'DANGER' inside a red oval which is inside a black rectangle. Sign text is in black text on a white background.
Danger Signs in Australia warn of hazards and/or hazardous conditions that are likely to be life threatening.
What is a Safety Sign?
A safety sign is one which gives a specific message to those who may be exposed to hazards in the workplace, they may be to prevent accidents, signify health hazards, indicate the location of emergency and safety equipment or to give guidance and instruction in an emergency situation.
The primary importance of displaying safety signs is to prevent injury and ensure visitors and staff alike are well aware of possible hazards and dangers in specific situations or environments.Danger Safety Signs also provide the neccessary direction in times of crisis which helps protect employees and property owners from legal difficulties if an accident was to occur.
Many dangers can often go unnoticed in your workplace or facility particularly with visitors and members of the public that may visit your site.
Industroquip Safety & Signage has a huge range of safety signs available to you to help create a safe, well identified workplace or facility. All Industroquip Safety Signs are manufactured here in Australia to meet Australian Standards and also withstand the harsh Australian weather conditions for many years.
Download your free copy of the Safety Sign Self Audit Tool click here, if you are still confused about what danger safety signs you need in your workplace contact our team now on 1300554192 and we will run through it with you.