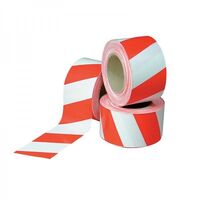 Here is a brief overview of the different barrier tapes and what they are used for.
We often get asked why is there different coloured barrier tapes and what are they used for, here is a brief run down on barrier tapes and what the different colours stand for.
Red & White
Red & White Barricade Tape stands for 'DANGER' this is where there is a potentially life threatening danger like a deep excavation or a dangerous machine that could cause life threatening injuries or death.
Black & Yellow
Black & Yellow Barricade Tape stands for 'CAUTION' which is to warn of a hazard that isnt life threatening but could cause injury, examples of these may be piles of building materials or waste or other trip hazards etc.
Blue & White
Blue & White Barricade Tape is used on Railway projects, this is to remove any risk of train drivers mistaking red tape for a red signal on a rail site.
We trust this article helps you in identifying the different colour barrier tapes and what they are to be used for, if you have any further questions about barrier tapes and other barrier products please contact our team now on 1300 554 192.
Industroquip's range of barrier tapes are all made right here in Australia to withstand the harsh Australian site conditions. So if you are looking for Australian Made Barrier Tapes or even custom made barrier tapes with you personalised branding reach out, we'd love to help.