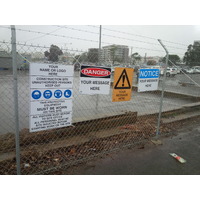 For the basic requirements for building site signs in Australia it is always wise to check your local state work health and safety regulations as rules and laws sometimes change between states and territories throughout Australia.
The Work Heath & Sfaety Regulations require all building sites to erect a builders sign in a position clearly visible from outside of the building site, containing the following information:
The builders name (Principal Contractors Name)

A contact phone number, including an after-hours phone number

The location of the site office (if any)
It is recommended that the builders sign also includes safety information.
Industroquip have some standard designs in our range to assist with this and also can customise construction site entry point signs with company logos and branding and of course site contact details.
Here are some of our designs that can be used on building sites suitable for everyone from tier 1 construction companies through to owner builders.
This is a design that we can customise your building site contact information and add your logo across the top of it.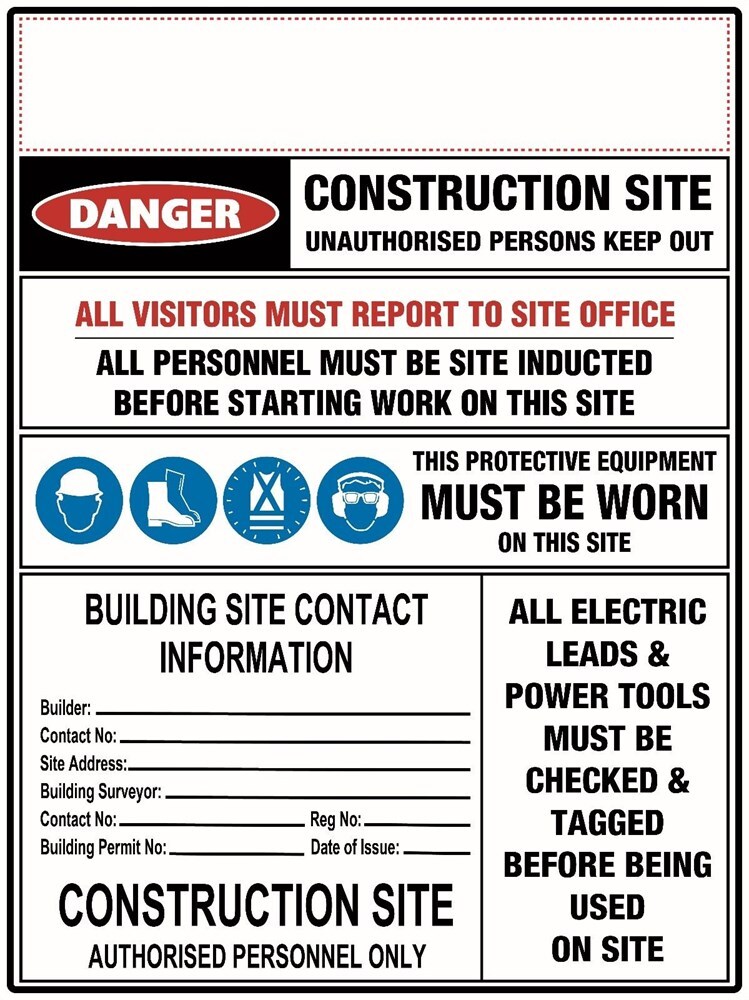 This design is perfect for the owner builder or smaller project carpenter and the information is to be filled out using an artline texta or white board marker.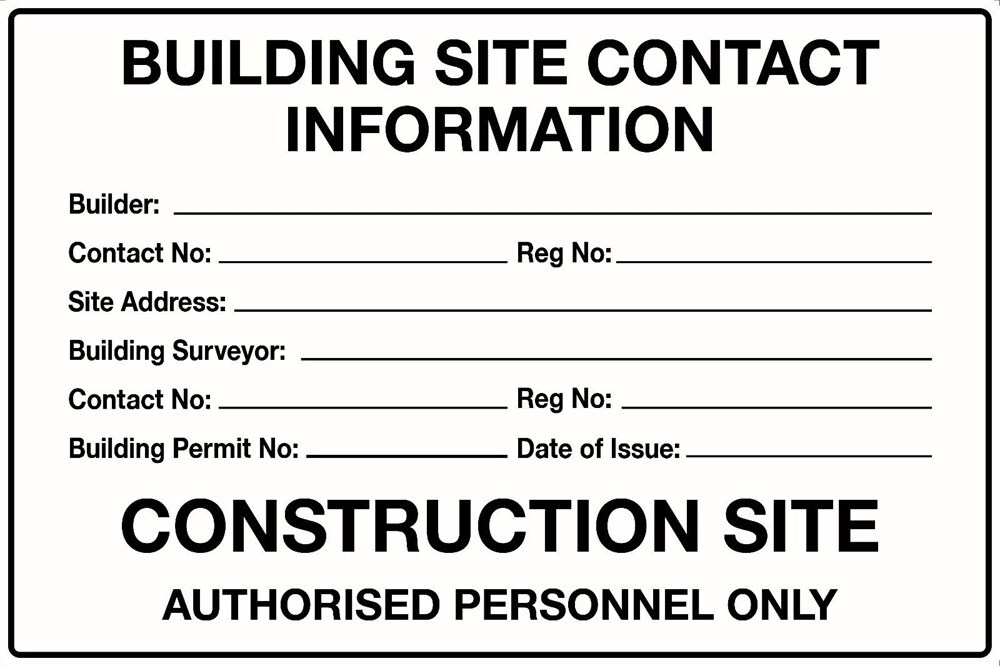 This is a design that is common with home builders and also on smaller commercial building sites or even earthmoving projects, we can add your logo across the top of this building site sign and even print your contact names and details onto the sign for you.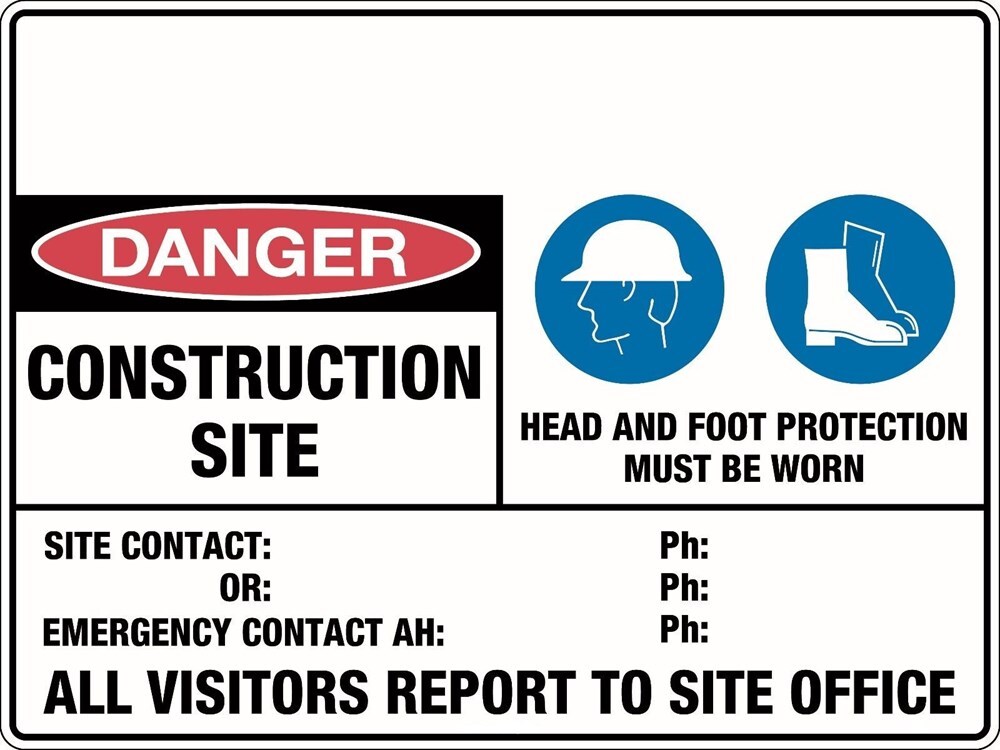 This building site sign can be customised with the mandatory PPE requirements for the building site and company names and logos.
Here is another popular building site sign that is commonly used by home builders across Australia, as you can see below it has a large space for corporate branding across the top.
We can also custom print your own design to suit your corporate branding guidelines which is what some marketing teams prefer for their building company.
Building Sites are a high risk working environment, contributing to a large percentage of workplace deaths, accidents and injuries in Australia.
The operation of large heavy machinery, working at heights including scaffolding and on roofs, surrounded by moving parts, moving machinery and work involving electrical wiring, overhead wires, deep excavations and also digging where underground cables are located just to name a few of the many hazards confronting construction workers in Australia every single day.
It certainly doesnt cover all hazards on a building site however a great start to building site safety sign implementation is our new Construction Site Safety Sign Pack which has the basics to get you started.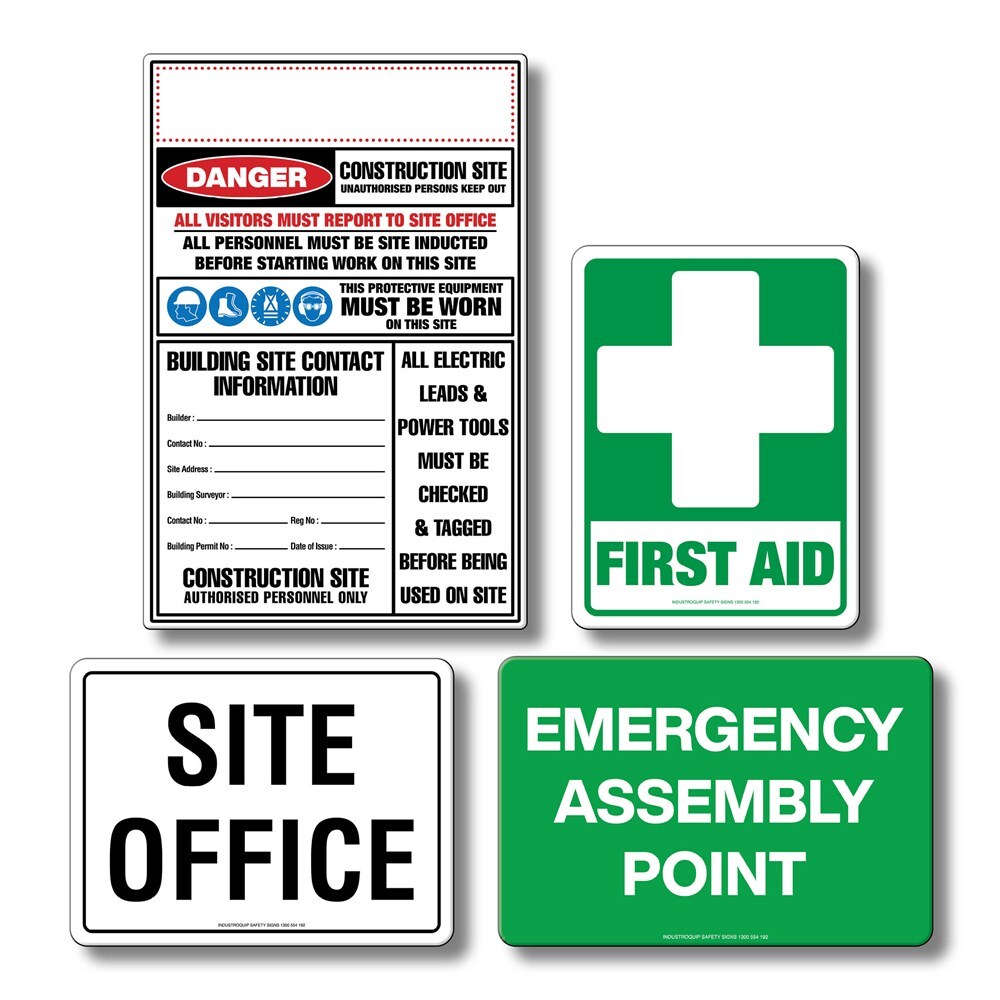 If you need any further help please call us now on 1300 554 192.