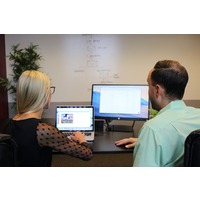 Industroquip partners with hundreds of WHS consultants right across Australia.
WHS Consultants right across Australia are proving the benefits of partnering with the Industroquip team for the supply of Safety Signs to resell to their clients, this provides the safety consultants another way to make further income on the side by not only recommending solutions but providing the end to end solution for them.
Industroquip is a leading manufacturer of Safety Signs based in Newcastle Australia who work with hundreds of Safety Consultants in every state of the country, some of the many unique advantages that the WHS consultants are finding with Industroquip are:
DROPSHIPPING OF SAFETY SIGNS
Industroquip has a unique ability to direct ship WHS consultants safety sign orders direct to their clients completely blindshipped so the end user cannot track down where they actually came from, this gives the WHS consultant the peace of mind that the customer won't have Industroquip's contact details to purchase direct with future purchases.
CUSTOM BRANDING
As Industroquip is a manufacturer of Safety Signs right here in Australia, we provide WHS consultants the unique advantage of adding their company name and contact details or even a logo on all the safety signs they sell to their customers, this provides the WHS consultant the chance of repeat business, free advertising for their company.
FAST SHIPPING AUSTRALIA WIDE & BEYOND!
Industroquip have a great range of reliable freight providers we use to ship your orders direct to your customer anywhere in Australia, New Zealand and beyond very fast.
MARKETING SUPPORT
Industroquip have a dynamic team of digital marketing specialists and graphic designers that are here to help WHS consultants in the promotion and sale of Industroquip Safety Signs.
Reach out to our team now on 1300554192 to discuss how we are currently work with many safety consultants providing them with all our digital assets, marketing literature branded with your name and even complete websites allowing them to reach more clients.https://
Safety consultants are professionals who are usually brought in from outside a company to provide advice and expertise about safety matters, Safety consultants and those seeking to enter other occupational health and safety careers must be highly knowledgeable in industry-specific areas.however they aren't equipped with the manufacturing expertise and high cost machinery associated with manufacturing of Safety Signs in Australia, this is where Industroquip who have been manufacturing quality products in Australia since 1975 come in and partner with WHS consultants.