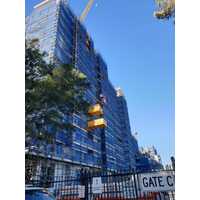 We often are asked by power, mining and other industries, where do I get scaffolding in the Hunter?
With the any and varied industries in the Hunter Valley requiring scaffolding like power station shut downs, coal washeries and even all the ship loaders down in Newcastle there is a massive need for decent scaffolding hire companies and scaffolding erection specialists.
As Industroquip are involved in the supply of height safety, tool tethering and other safety equipment to the scaffolding industry here in the Hunter we often have clients ask us where do I hire compliant scaffolding equipment or do you know anyone who can erect or remove scaffolding.
So having landed on this page, you're no doubt wondering the same, who do I use or where do I hire good scaffolding gear from in Newcastle or the Hunter Valley?
Whilst there are many providers out there, we've had good experiences every single time we've dealt with Evan and the team at Rize Scaffolding based right here in Maitland.
The team at Rize have been providing quality scaffold and containment systems for over 15 years. Rize employ an experienced and highly skilled team who have worked on a wide range of projects all over Australia & NZ.
Rize have an in-house design team with support from structural engineers specialising in temporary structures.
In all their work, safety is the number one priority – for their employees and customers, their employees and their assets. Every project is comprehensively reviewed before beginning work to ensure that we deliver quality, safe solution conforming with Australian Standards.
So if you are looking for a good scaffolding contractor in the Hunter Valley reach out to the Rize team directly on 0403 209 755 or office@rizescaffold.com.
We trust this article is helpful, be sure to reach out to us if there is anything we can help you with on your project, we supply the full range of safety equipment and also manufacture printed construction mesh which is often used by scaffolding companies for branding purposes.