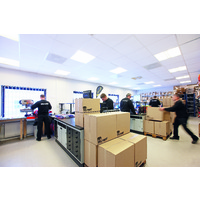 Save up to 90% of work wear and PPE distribution time by utilizing Manpack by Industroquip
We feel your pain!
Who doesn't feel like they need more hours in a day? We all do.
The fact is there is never going to be more hours on the clock, so we have to work smarter and more efficient.
If you are currently or have been in the past involved with the ordering and distribution of Personal Protective Equipment (PPE) & Workwear in an organisation you will know that there isn't many more mistake prone, time consuming tasks then this, especially for those that are already time poor.
At Industroquip Safety & Signage we offer the Unique Manpack™ Service that provides individually packed PPE & Workwear that provides significant time and cost savings to you and your company.
Industroquip's Manpack™ service provides you with individually packaged and labelled PPE & Workwear Australia Wide which has proven to save some organisations up to 80% of distribution time.
A national multi-site cleaning company operating in mines and remote accommodation centres Australia wide has told us they can now distribute their monthly Site Safety & PPE orders and quarterly Workwear orders direct to their sites nationwide, which provides them with accurate contract costing, a zero mistake rate and 100% DIFOT which in turn has dramatically reduced the time it takes doing purchasing. Manpack™ has provided them with peace of mind, consistent and compliant safety products right across the country and totally removed the headaches and time wasted trying to distribute orders from head office out to sites,
So if you need more hours in a day, try Manpack™ today!
Industroquip Safety & Signage offer full in-house garment decoration which includes screenprinting, digital full colour transfers and embroidery.