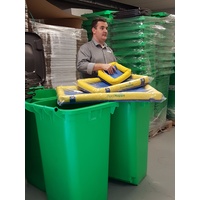 The team at Industroquip Safety & Signage​ are very pleased to announce the launch of Plant Nappy in Australia
The team at Industroquip Safety & Signage​ are very pleased to announce we have received the distributorship for the Plant Nappy® range of products in Australia. The Plant Nappy® is a better alternative to the use of drip trays under plant and machinery
​​http://www.industroquip.com.au/plant-nappy-drip-trays/​​
The Plant Nappy® is a better alternative to the use of drip trays under plant and machinery on site. It is designed for use outside in the rain and harsh conditions to provide containment of oil and fuel spills for generators and other site machinery, whilst overcoming the problem of filling with water.
The Design
The design allows drips of oil or fuel to be caught in the base and rainfall to escape through the side walls as pure clean water. The base of the mat is non-permeable fabric laminated with an oil soak filter, to absorb the oil, and protected by a permeable top fabric to allow free passage of contaminants. The side wall is permeable with a filter fabric that allows free passage of water but not oil. It only discharges clean water.
Available sizes
· 500 x 685mm
· 1000 x 685mm
· 2000 x 1370mm
Plant Nappy® Liners.
The Plant Nappy® liner is a useful addition to complement and extend the life of the Plant Nappy®. The liner sits snugly onto the base of the Plant Nappy® but is easily removed for cleaning or replacement.
Just as the Plant Nappy® has a non-permeable base and a tough top cover so has the liner to give prolonged efficient service.
Cleaning of the liner couldn't be easier, simply remove the liner from the Plant Nappy® and squeeze out the oil into a suitable receptacle, and then replace back into the Plant Nappy® for reuse.
Because the liner is flat, a pair of rollers such as a mangle would prove quite useful for this procedure.
The capacity of a standard liner is approximately 4.5 lts and may become quite heavy, in which case it would probably be beneficial to clean at 50% capacity.
​Our Spillsupport plant nappys are in stock in Sydney, Newcastle, Brisbane and delivery available to Melbourne, Adelaide, Perth very fast!
​Call our team on 1300 554 192 for more information or check out the Plant Nappy range on our website.