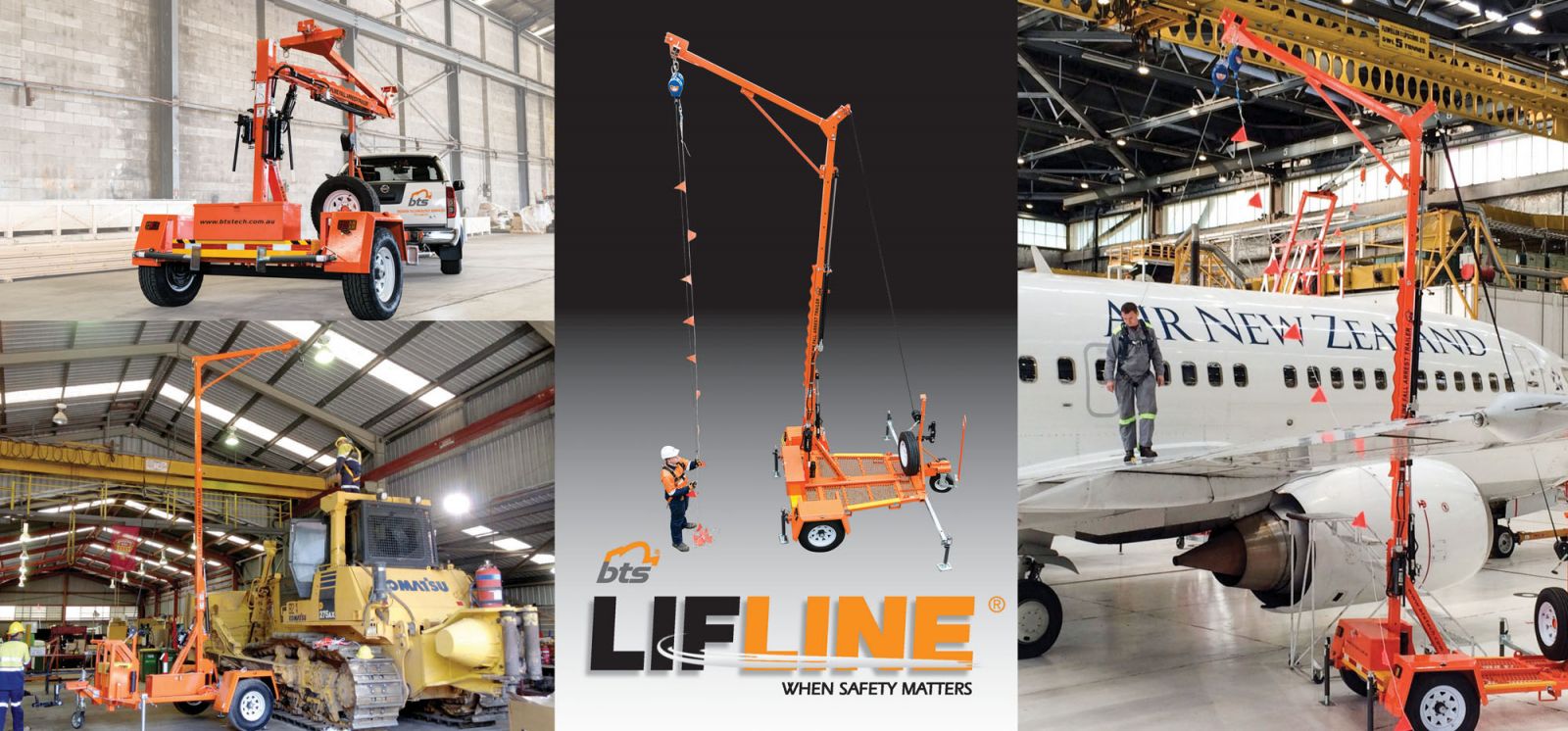 Available for Hire or Buy!
The BTS AirHook Jr Trailer is a complete overhead fall protection system that is installed on a tow-able road registered trailer suited for Australian road conditions.
The AirHook Jr provides up to two (2) workers an overhead anchor point that is easy to set-up. Height adjustable to a maximum of 6.7m, the main mast of the AirHook Jr is raised or lowered using a hydraulic pump and valve arrangement.
PRODUCT FEATURES
Maximum working overhead anchor point height of 6.7m and with a 1.2m offset mast rated for two (2) workers.
When not in use, the AirHook Jr mast folds down into the trailer and is securely held in place.
Completely counter-weighted with predetermined weight plates for two (2) workers.
The AirHook Jr takes around 5 minutes to set-up for use and a similar amount of time to lower the unit after use.
The AirHook Jr main mast is raised and lowered using a hydraulic pump and valve assembly with built-in hose burst protection reducing any manual handling issues on-site.
Put-away toolbox for safe storage of harnesses and fall arrestors.
Easy-to-use friction brake assembly on multidirectional front wheel.
Certified lifting points and forklift tyne pockets for ease of lifting and storing when shipping AirHook Jr system around country side.
Grid mesh construction on trailer floor to act as an anti-slip surface and also eliminate any build-up of dirt.
Torsion axle assembly eliminating potential 'trailer hopping' when travelling at speed on and off roads.
Accessories; Inertia Reels, Inertia Reels with Self Rescue Capability, Inertia Reel with Assisted Rescue feature.
BTS AirHook Jr Trailer
SPECIFICATIONS
| | |
| --- | --- |
| Ultimate Strength Rating: | 18 kN |
| Capacity (Fall Arrest): | Max. 2 worker weighing not more than 136 kg each |
| Allowable MAF Rating for SRL's: | 4 kN |
| Height: | 6.8 m Max. |
| Reach: | 1.2 m |
| Foot print: | 3.3 m × 3.6 m (Stabilising outriggers extended) |
| Weight: | 1.6 T |
| Anchorage type: | Limited Free Fall |
Contact our Height Safety Expert Gary Clayton on 0448 005 761 or gary@industroquip.com.au now for a hire or buy quotation in Australia.