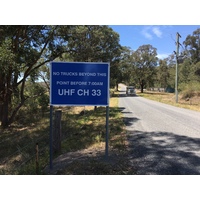 After high-visibility mine signs guaranteed to withstand the hashest mine site conditions in Australia? Look no further then Industroquip Safety & Signage.
Industroquip Safety & Signage have been working closely with the Australian mining industry for many years and have the manpower and experience to tackle any mine signage project large or small within tight time schedules and to the highest quality standards.
Based in the Hunter Valley near many major coal mines, Industroquip Safety & Signage have a state of art production facility manufacturing a full range of mining signage for mines in the Hunter Valley, North Queensland, Western Australia & PNG.
Industroquip offer complete end to end solutions to mining companies, including;
Full Mine Site Signage Audits
Custom Designs
Reflective Mining and Safety Signs
Haul Road Signs
Inhouse Custom Manufacturing
Installation
Sign Cleaning & Maintenance
Whether you are looking for hundreds of delineation posts for a haul road or a small traffolyte engraved label for a lockout padlock the team at Industroquip Safety & Signage are here to help you comply with WHS & MDG regulations.
Contact our Mining Safety Signage team now on 1300 554 192 or email sales@industroquip.com.au for an obligation free proposal for your site.
Call Signs, Call ID Signs, Hivis Signs, Reflective Signs, Mine Signs, Hunter Valley, Coal Mining Signs, Fast Turnaround Signs for Mines, Engraved Signs for mining, traffolyte, class 1 reflective signs, underground mining signs, hunter valley, mackay, rockhampton, kalgoorlie, port hedland, perth, western australia, mine id plates, call id signs, delineator posts for haul roads, LTI Boards, LED Safety Signage, Drill & Blast Signage, Drill & Blast Cones, Hunter Valley, Hunter Valley Safety Sign Manufacturer, reflective stickers and decals, safety signs hunter valley, safety signs newcastle, safety signs mackay, safety signs port hedland, mine signs, myne signs, mining signs, mine signage, coal mining signs, MDG15 Compliance Signs & Labelling, MDG15 Labels, Mine SPec Labels, Mine-spec signs, LED Mine Signs,