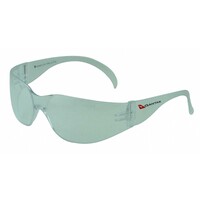 How great would your logo or corporate safety slogan were printed on the side arms of your safety glasses?
Just imagine your staff are still wearing their safety glasses on Saturday afternoon when they head down to the jetty to fish or the pub for a quick drink on Friday afternoon, your branding is out there creating brand awareness with loads of potential customers.
Picture your delivery drivers, onsite technicians and so on out on site at the lunch shop etc promoting your company name wherever they go, it also would look very professional.
We have now helped a few companies in Australia do exactly this, its very simple, cost effective and safe.
Simply email your logo to sales@industroquip.com.au now for a free artwork mock up and obligation free proposal on your custom branded personalised safety glasses.
Here at Industroquip we can also print logo hard hats, safety vests and much more.