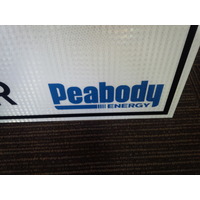 The short answer is YES, the process is very simple and cost effective, find out more here....
The quick answer is – YES!
When purchasing Safety Signs from Industroquip you are dealing direct with the manufacturer, this means we have the unique ability to customise your safety signs with your logo.
What is the process?
When speaking with the sales consultant on the phone or on email simply tell them that you'd like to add your logo or branding to your Safety Signs, they will then request a high res copy of your logo.
After that you'll receive an artwork approval form with your design on it, once you've checked it out and are happy with it, simply tell your rep to proceed.
Your signs will be printed & despatched from our Rutherford Manufacturing Facility within 24 hours and delivered directly to your site or workplace as soon as possible.
Many of our Safety Sign resellers across Australia are now utilising this service to get their own brands out on sites and in workplaces, if you are interested in becoming a distributor of Industroquip Safety Signs please Reach out to the team now on 1300 554 192 or on instant chat below to get the process started.