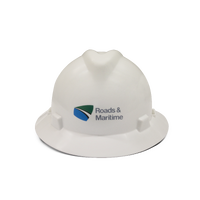 When it comes to printed personalised logo hard hats we often get customers asking if they can get just a small print run as they will never use 20 printed logo hard hats.
Unfortunately it isnt feasible to pad print small batches of printed logo hard hats due to the cost of setting up the pads for the printing machinery and setting up the machinery correctly which is quite a time consuming task, however we do have a solution for those that are looking for smaller quantities, these are handy especially for those that rarely actually make it onto a physical construction site where a hard hat is mandatory.
The solution we can offer is a high quality, high tack self adhesive vinyl contour cut of lettering and logo's in full colour and transfer them onto the hard hats.
These vinyl cut out logo's and lettering actually are far more vibrant than traditional pad printed hard hats without set up fees and without minimum print runs however as they are a sticker rather than direct print the printing could be stratched off if scraped on something sharp or hard.
For more information please call 1300 554 192