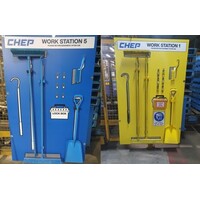 CHEP a Brambles company is a global provider of supply chain solutions serving the consumer goods, fresh food, beverage, manufacturing and retail sectors in more than 60 countries with over 12,500 employee's globally and approximately 300 million pallets.
Recently we were privaled to work with the team at CHEP in Australia to design, manufacture and deliver custom Tidybord's to their work stations to help make their workplaces 'Clean & Lean'.
CHEP had their Tidybords and cleaning equipment colour coded into individual colours for each work station, colours they used were Blue, Yellow, Green, Purple and Red.
The CHEP Tidybords featured industrial grade colour coded cleaning equipment along with Lockout Tagout Equipment, here at Industroquip we can customise your Tidybord with your logo's, corporate branding, colour code them to assist you in 5s implementation and much more.
Reach out to our TidyBord team now for more information on 1300 554 192