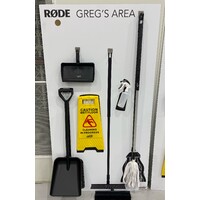 Industroquip™ were honoured to be given the opportunity to work with the team at RØDE on the design, manufacture and implementation of cleaning station shadow boards
Cleaning Station Shadow Boards for RØDE
Across music recording and performance, broadcast, filmmaking, newsgathering and wireless, RØDE has become the go-to microphone and, along the way, a global powerhouse in pro audio.
Over the years RØDE has been recognised as an industry leader in design and business, earning numerous Red Dot awards, Australian International Design awards and the Australian Manufacturing Exporter of the year for 2013.
In 2016, Founder & Chairman Peter Freedman was awarded the Order of Australia for services to export and philanthropy in the arts.
Industroquip™ were honoured to be given the opportunity to work with the team at RØDE on the design, manufacture and implementation of cleaning station shadow boards at their state of art facility in Silverwater NSW.
The end result was stunning with the happy customer saying that "they were better then they expected, thank you so much for the great service and awesome shadow boards"
Industroquip™ have been involved in the Australian manufacturing industry since 1975 and now have over 2 decades of experience in the Safety & Visual Workplace Solutions Sector here in Australia, if you would like to implement shadow boards and lean best practices to your manufacturing or warehousing facility in Australia please reach out to the team at Industroquip™ and we will be so pleased to help you.
Reach out to our Visual Workplace Specialists now on 1300 554 192 or sales@industroquip.com.au