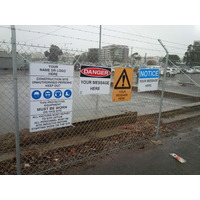 No workplace is the same therefore the hazards are always different and need to be identified with site specific custom safety signs.
The team at Industroquip Safety & Signage have developed 'Create Your Sign' a unique service where we customise safety signs to suit your exact requirements.
As part of Industroquip's unique 'Create Your Sign' program we offer;
Australia Wide Onsite Safety Sign Audits
Detailed Safety Signage Reports with corrective measures outlined
Custom Signage Design
Inhouse Manufacture to your exact requirements
Installation available in Sydney, Perth, Brisbane, Melbourne & Newcastle if required.
'Create Your Sign' also offers customised safety signage to many OH&S Consultants Australia Wide to help them assist their clients in getting the right solution to their WHS problems.
Contact us now to find out more about Create Your Sign or download the order form below:

If you are looking for a stock standard off the shelf generic safety sign the team at Industroquip can also help with our large range online click here to view.