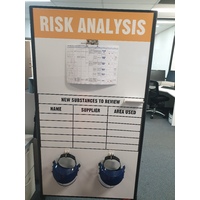 We can custom design and make safety signs and solutions to your exact needs
A national WHS committee for a large hazardous waste transport company approached the team at Industroquip looking to roll out a new Risk Analysis Board that they had come up with in a recent brainstorming session on how to improve their processes.
The safety committee went out to the open market looking for an off the shelf solution, after approaching many safety and signage companies around Australia they didnt have any luck, until they came across the team at Industroquip.
Industroquip is an Australian family owned and operated company that have been manufacturing here in Australia since 1975, we have the unique ability to custom manufacture safety signs, safety equipment and more to your exact requirements utilising our years of manufacturing experience, in house fabrication and printing abilities.
So if you and your WHS committee or safety team have an idea of how you could better communicate your safety message or how you could solve a safety issue in your workplace, reach out to the team at Industroquip now on 1300554192 or sales@industroquip.com.au and we will help you bring your idea or concept to a reality for you.