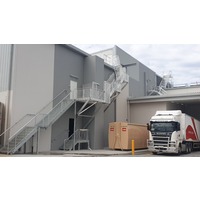 Project Spotlight: Recent project for a commercial construction company in Newcastle.
We recently worked with a construction company on a new commercial project in Newcastle NSW to provide aluminium access ladders, customised aluminium stairs and roof walkway systems for safe access from their loading dock area to fire doors on different levels and also to provide access for technicians to access the roof top plant and equipment like solar panels, cooling towers, air conditioning units and fans safely.
The end result was really impressive and the construction company were over the moon with the completed project, the project manager said "Industroquip we're fantastic to work with and the job was completed defect free, on time and on budget"
If you need safe access to heights whether its a roof top or not the team at Industroquip are here to help you, with our team of auditors, fabricators and accredited installers we can provide safe height access in even the most challenging situations.
Call our Projects Director Gary Clayton now on 1300 554 192 to discuss your project.